Health Innovator Award: CaLLogix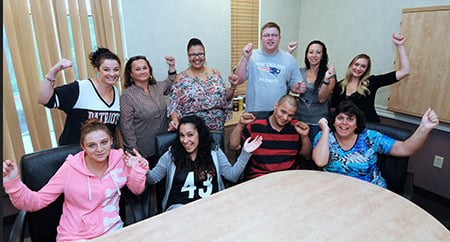 For its steadfast commitment to promoting wellness in the workplace for many years by providing opportunities and rewards for employees, CaLLogix has been recognized by Harvard Pilgrim Health Care of New England and NHBR as the most recent Health Innovator Award recipient.
CaLLogix is a call center located in Manchester and Bedford, N.H., with 113 subscribers and 153 members, addressing the needs of small- to medium-sized clients and providing highly specialized programs for large corporations or agencies.
Sherry Leonard, CaLLogix president, was interviewed.
Q. What kinds of rewards and incentives do you offer to your employees to encourage participation in wellness-centered programs and activities?
A. The majority of the programs we have here are rewarded through our Snowfly Incentive Program. Snowfly is an employee incentive and recognition program using motivational online games for our employees that are created and managed by Snowfly's team of professionals. The CSRs receive tokens that are played and turned into dollars that are then added to their Visa card provided to them via the Snowfly program. There have also been other rewards; for example, if you participate in the walking club, you receive a pedometer. Additionally, we offer healthy breakfast and healthy recipe programs.
Q. What has been the biggest challenge to implementing such a robust employee wellness program, and how have you been able to overcome this challenge?
A. The biggest challenge is time/schedules and supporting these programs with a very small management team. We are a 24-hour contact center, so trying to incorporate the program for all employees as well as meeting our customer needs can be a challenge. CaLLogix currently uses a workforce management tool for staffing and we do our best to incorporate these events into employees' schedules. There is always room for improvement, and each year it becomes a little bit easier to balance our staff and their schedules.
Q. CaLLogix offers a wide array and full calendar of wellness activities to its workforce. What has been the most popular or most well-received wellness offering?
A. The smoking cessation, meditations and the Conscious Success Program have been popular. During National Customer Service Week, we incorporate many events and they are well received – such as the flu clinic, blood pressure screening and healthy eating. CaLLogix has also had someone come in and instruct employees on how to do yoga at their desks.
Q. Why is it important for your organization to emphasize health and wellness in the workplace? How has this positively impacted your work environment and company culture?
A. We originally designed our program to reduce our overall health cost, as well as addressing a few big challenges we were seeing with our employees such as smoking, weight loss and stress. The goal was to help them to eat healthier, reduce or stop smoking and teach them how to manage their stress both in their professional lives and at home, resulting in a healthier and happier individual. A happy and healthy individual becomes a more productive individual to better service our customers.
"Harvard Pilgrim is honored to partner with CaLLogix in their quest to increase employee wellness. Their success in promoting healthy choices in all aspects of life has lead to measurable results for their employees and their families."
– BETH ROBERTS, SVP, REGIONAL MARKETS, HARVARD PILGRIM HEALTH CARE