Health history requirement bogs down SB 110 competition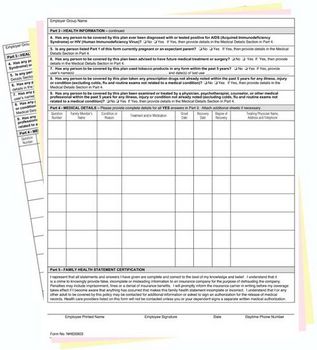 In the last five years, have you ever been treated for "reproductive systems disorders"? How about your spouse? Or your daughter? Has anyone had any counseling for "emotional health" issues? Have you tested positive for HIV? Have you had intestinal problems? Please give details on all of the above, including dates, the name of your physician, the address and phone number, reason for treatment and degree of recovery. Attach additional sheets if necessary.
Beginning Jan. 1 — thanks to the passage of Senate Bill 110, the state law that's supposed to open up the health insurance marketplace to competition — if a business wants to obtain a quote from another insurer it has to collect such information from every single employee before doing so. And the employees must answer every question on the two-page Family Health Statement truthfully and completely.
One of those businesses, Scott Electronics in Salem, decided to explore its options. Jacqueline Metzemakers, vice president of administration at the firm, said she liked the idea of SB 110, which allows competitive health insurance pricing based on medical history. But she didn't like what she had to go through to find out about lower costs.
"I thought what I did was enough, but they are telling me about 15 (forms) were not completed properly. It's been continual back and forth for almost two weeks," she said.
It's been particularly difficult for Scott because many of her employees have trouble speaking, or reading, English she said.
While she knows that the law is supposed to protect her employees' privacy, many employees have asked for help filling out the forms and requested that she keep them on file so they won't have to go through the exercise next year. That means Metzemakers, through no desire of her own, is all of a sudden privy to her employees' personal medical history.
For 10 years, an employee's medical history didn't matter in determining insurance costs. State law had forbidden insurers of small groups to use medical history in determining their rates. An agent could get a quote with a simple phone call. But all that changed when the state Legislature threw out the community rating law, and once again allowed insurers to use medical history to determine rates.
Companies that stick with their previous insurers don't have to worry about forms, since their insurers already know about their medical history through claims experience. But if the company doesn't like the price and wants to shop elsewhere, its employees are going to have to fill out the Family Health Statement.
Now, "what used to take 15 to 20 minutes takes two or three hours," said Tom Harte, president of Landmark Benefits Corp. in Hampstead.
And the forms keep being sent back.
"In one situation, the employee said he had a cold, which he didn't even have to put on the form. The insurer rejected the form because it did not say when he recovered from his cold," Harte said.
Then there is the holdout — the employee who refuses to give out private information about himself and his or her family.
But personal privacy now clashes with the company bottom line. Harvard Pilgrim, for instance, won't provide a quote unless all employee forms are in and complete. Other insurers would count the missing form as the worst case scenario, which in a small office could drive up the rates of everyone by 15 percent or even more.
Other agents suggest that the employee who doesn't fill out the form isn't eligible for insurance. But Harvard Pilgrim wasn't sure whether it was legal to exclude someone for coverage for that reason. (The state Labor Department Wage and Hour Division said it was not only legal to exclude an employee from coverage, but to fire the stubborn employee.)
But is it legal for an insurer to refuse to give a quote to a group because of a missing form? The Insurance Department suggests that it might not be, because the law still requires insurers to offer insurance to all small groups.
"I think they have to write them up, but they will probably write them up to the max," said Leslie Ludtke, a health policy analyst with the state Insurance Department.
There also is some confusion over privacy issues.
"Legally the boss shouldn't see this stuff," said Ludtke.
The idea is that the person who hires and fires shouldn't know who is driving the rates up, because it is all too tempting to get rid of the employee. Although the law forbids discrimination on this basis, such a charge is usually hard to prove, especially if the employee in question isn't the best worker in the world to begin with.
But the boss is often the one collecting the forms, especially in a small company. Agents suggest they do so in a sealed envelope, but as Scott Electronics shows, when the forms go back and forth because of specific unanswered questions or when employees with language barriers or literacy challenges need help, the employer sometimes has no choice but to become involved.
Another question is the form that's being used. The state issued a standard form, but it was so long that insurers rebelled. Instead, they convinced the state to allow the companies to use their own form. So far, all three insurers in the marketplace have agreed to use the same form, but new insurers coming into the market, such as Fortis Health's John Alden Division, want to use their own form, which the state has yet to approve.
"Every company assesses risk differently," said Sean Lynch, a district manager with John Alden, a division of Fortis Health. "But it won't differ substantially. Medical questions are medical questions."
State Sen. Robert Flanders has introduced legislation to make official what is already happening: allowing each insurer to use their own forms. The problem, say some agents, is that such a change would make it extremely hard to shop around medical history with different forms.
All of these questions have actually slowed down the primary goal of SB 110 — to bring new competition into the market. But insurers will enter the market when all this settles down, said Harte.
"They are waiting for the chaos to subside," said Harte. "And we are in a state of chaos."
Other agents, however, think that in the long run, employers won't mind the forms.
"It's definitely more paperwork, but hopefully with that comes more choice and lower prices," said Tom Murtagh, managing agent at Atlantic Plans on the Seacoast.
"There is some reluctance to fill them out," said Raymond White, a broker with Cornerstone Benefits Group in Manchester. "It's a little bit of an inconvenience. But I'm sure they will be happy to take the time if it means lower costs."
But, as reported in the Feb. 6-Feb. 19 issue of New Hampshire Business Review, so far those costs are going down for, at best, a third of small businesses. Since SB 110 went into effect — and its elimination of community rating for groups of less than 50 — many other businesses have watched their rates increase by double digits, with some reporting increases as high as 50 percent.