Hassan leads effort to delay net neutrality vote
But FCC chair rebuffs letter sent by 28 senators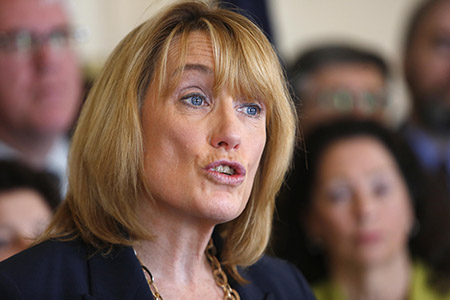 Despite a letter signed by 28 U.S. senators urging a delay in its controversial Dec. 14 net neutrality vote, Federal Communications Commission Chairman Ajit Pai insists the vote will go on as scheduled.
The call for the delay, led by New Hampshire's Maggie Hassan, came in a letter sent to Pai on Dec. 4.
The letter cites evidence that the proposal's public comments were inundated with fraudulent posts. In fact, one data scientist says he found that 1.3 million of the 22 million public comments received came from a single source, and the Pew Research Center says it found that over half of the comments came from temporary, duplicate or fake email addresses.
"A free and open internet is vital to ensuring a level playing field online, and we believe that your proposed action may be based on an incomplete understanding of the public record in this proceeding," the senators wrote. "In fact, there is good reason to believe that the record may be replete with fake or fraudulent comments, suggesting that your proposal is fundamentally flawed."
The letter asked the FCC to delay he vote until it can thoroughly review the public record and prove its accuracy. "The FCC must invest its time and resources into obtaining a more accurate picture of the record as understanding of that record is essential to reaching a defensible resolution to this proceeding," wrote the senators.
The letter also cited a six-month investigation by New York State Attorney General Eric Schneiderman, who found that "hundreds of thousands" of comments may have impersonated New York residents, a violation of state law.
But in a statement released the day the letter was sent, the FCC said "the vote will proceed as scheduled."
The Hill reported that, in a separate statement to Ars Tecnica, the agency said the senators' letter "is just evidence that supporters of heavy-handed Internet regulations are becoming more desperate by the day as their effort to defeat Chairman Pai's plan to restore Internet freedom has stalled."