Has a power crisis arrived in New Hampshire?
Natural gas, electric price spikes from PSNH competitors fuel renewed debate on energy in region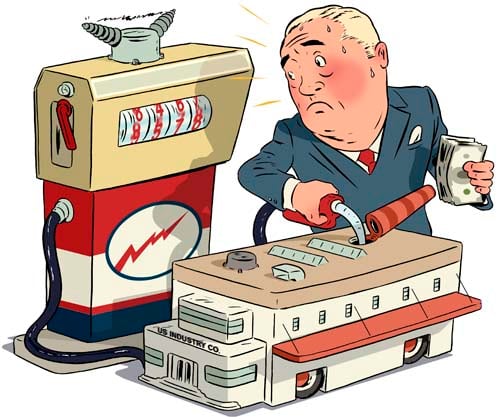 Ask Greg Biederman, CEO of Nylon Corp of America, about the natural gas spikes this past winter.
The Manchester firm – which employs about 50 workers – uses the gas to fuel manufacture of those cords you find in weed-whackers and for thin, clear membranes used to protect insulation of multiple wires.
His energy bill (which also includes electricity) rose from $1.8 million to $2.5 million in two years. That's primarily because of the cost of natural gas, which has risen 30 percent from last winter. The amount Biederman pays for the actual gas remained about the same – about $4 per BTU, according to the breakdown his supplier, Sprague Energy, provided to him. But transmission costs increased to as high as $91 per BTU.
And as the demand for natural gas increases, "we are going to have the same problem year after year," said Biederman. "It's going to be astronomical. There is a real power crisis coming to the Northeast. If it spreads to electricity, it's going to price us out of business."
Cheap natural gas – extracted from shale in a process known as fracking – has been a boon for the national economy, but because of the lack of pipeline capacity, it has been the bane of New England during the last traditional winters, when the spot market price for natural gas jumped some 76 percent, making New England's gas the priciest in the nation.
Biederman managed to survive the price spike because he has a diesel generator backup. But Gorham Paper and Tissue didn't have that option, and it shut down for weeks earlier this winter.
Disappearing savings
Natural gas costs aren't just affecting businesses that power directly from gas, but those that depend on the spot market price for electricity, which is tied to the price of gas.
Just ask Bill LaBerge, owner of Billy's Sports Bar in Manchester. He needs electricity to light up some 150 TVs each night as well as to feed his two biggest power guzzlers – air conditioning during the summer and kitchen equipment year-round. So at the start of 2012, he signed a deal with a company called Halifax American Energy Company, which offered a lower rate than Public Service of New Hampshire.
Before this winter, LaBerge had saved nearly $7,000 since switching. But at the start of the winter, a variable rate kicked in, eventually increasing his costs from 7 to 30 cents a kilowatt-hour. His March bill of $6,868.85 wiped out what he saved. Indeed, LaBerge calculates that he lost nearly $1,600 for making the shift, before he switched back to PSNH service.
LaBerge knew he only contracted for two-year fixed rates, but let it slip. Still, "they should have called me," he said.
The company did try to contact all its customers, said August "Gus" Fromuth, an executive with Halifax Energy. Indeed, he offered to "park" all his customers with the local utility because – as he learned last season – "the wholesale price can bite you hard in the winter."
PSNH — the electricity provider of last resort – has to provide such free parking, but such candor bemuses the utility's spokesman Martin Murray.
For years, the utility has been making the argument that those who purchase power elsewhere should pay for the generating assets it uses, especially its Bow coal-fired power plant with its new $400 million mercury scrubber.
Those assets, idle much of the year, have kicked into overdrive during the last two winters, saving PSNH customers $115 million over the wholesale market, where prices climbed 55 percent in 2013 thanks to the natural gas spike.
"Our state-regulated power plants serve as an important insurance policy for our customers, and they have certainly proved their worth this winter," said Bill Smagula, PSNH's vice president of generation in a March 25 press release bolstering the utility's case to continue to be the only utility in the region that continues to have assets of its own.
But on the very same day, the New Hampshire House passed a bill that would give, or at least clarify, the state Public Utility Commission's right to force PSNH to divest those assets.
The PUC staff, in a report last summer, did indicate that it was becoming less tenuous for PSNH to keep its assets, because so much of the utility's customer base was migrating to competitive suppliers, which – according to the latest figures – still supply over half the power in PSNH territory.
That figure has gone down from 58 percent in October, to 54 percent in December, as some customers return to PSNH to weather the winter. Residential customers are still leaving, though at slower rate. In December, more than a fifth (23.2 percent) received their electricity from alternative suppliers, which have successfully recruited new customers, despite some well-publicized hiccups, both involving suppliers to aggregator Resident Power, which is an affiliate of Halifax.
The previous year, PNE Energy Supply (which shared ownership of Resident Power) fell short of cash, and ISO-NE, which regulates the electric grid for the region, suspended PNE, forcing its customers back to PSNH.
This season, it was People's Power and Gas (not related to Resident) that was suspended for a three-day period over the Christmas holiday, with its 5,700 customers steered to PSNH.
"PSNH serves a useful purpose as a provider of last resort," Fromuth said.
"It appears he is enjoying all the benefits and doesn't want to pay the costs," said Murray when told of that remark.
Not so, Fromuth replied. Instead of trying to pass on the cost of maintaining generation assets onto those not using PSNH power, why not simply charge a different rate for those who come and go?
"PSNH is free to walk to the PUC and design a rate for short-term customers, a sort of Chinese menu," he said. "Their pricing shows some lacking in imagination."
Generation assets
Unlike other competitors, however, Fromuth said he wouldn't mind if PSNH holds onto its generation assets. "I'm not one of the ones who was clamoring for divestiture."
Doug Patch, a former PUC commissioner who represents some of these competitors, does support divestiture. He has long argued that PSNH faces a "death spiral" if it doesn't let go of the assets, because the costs will be spread among fewer and fewer customers.
New Hampshire started on the road to PSNH divestiture back in the 1990s, but pulled back in light of unstable markets caused by the speculation of power brokers like Enron that led to blackouts along the West Coast.
And now that cheaper natural gas prices have allowed real competition to enter the energy marketplace, "New Hampshire should finish the job," Patch said.
True, he admitted, the seasonal price hikes "have some people thinking twice. (But) that doesn't change the basic reasons for leveling the playing field. Ratepayers shouldn't assume the risk. Market forces do that."
State officials are thinking twice.
Despite the staff report, the PUC has not moved toward divesture. Instead, it deferred to the Legislature, which is considering House Bill 1602, which would toss the ball back to the PUC's court, asking the commission to hold a full-fledged hearing on the matter.
PSNH agreed to the bill, prompting the House Science, Technology and Energy Committee to recommend it by an 11-1 vote.
"The utility is responsible to ensure that we have a power supply that is available thick or thin through cold weather, through hot weather, through competition, through elimination of supply sources. I know I don't want to give a public body authority to tell them that they can't manufacture what they sell," said Rep. David Hess, R-Hooksett, in the floor debate.
Nevertheless, the bill passed on a 185-134 roll call vote. It is now up for debate in the Senate.
Of course, PUC cases last for years, especially a complex one like this. And, unfortunately, any solution to the natural gas spikes may be even further away.
New England is currently served by five interstate natural gas pipelines, but their owners have been reluctant to expand them until they can get long-term contracts – the kind of contracts they currently get from gas utilities for home heating and hot water service. That's the reason those customers don't experience these spikes. Locked into long-term contracts, they have first dibs on the gas.
Electric generators and some manufacturers (like Nylon) are reluctant to commit to such long-term contracts, since – overall – it is cheaper to buy the leftover gas on the spot market. That doesn't mean that pipelines aren't expanding, since homes are increasingly switching from oil to gas. Tennessee Gas Pipeline is working on a Northeast expansion project that would result in 250 miles of new pipeline, but that isn't enough to serve the electrical generators.
This has ISO-New England worried, particularly since several large coal plants in the region are not (in contrast to PSNH) shelling out hundreds of millions of dollar to install scrubbers and are either retiring or switching to gas itself.
Indeed, just to make sure there is enough electricity during peak periods, ISO-New England is proposing a "pay-for-performance" incentive program that would reward generators to keep extra capacity around, either by locking in gas contracts or simply storing or contracting for diesel backup.
But that idea would have to be approved by the Federal Energy Regulatory Commission, and it wouldn't affect the market until 2018 at the earliest.
The New England States Committee on Electricity, formed by the region's governors, is asking ISO-New England to go one step further: charge generators a tariff that would be used to pay for a billion cubic feet of increased pipeline capacity.
Such an idea is "innovative," in the words of ISO-New England spokesperson Marcia Blomberg, but that also means that a lot has to be worked out, such as how to assess the tariff fairly and how to use it to increase capacity appropriately. And even if stakeholders approved the plan, it would have to be submitted to FERC, and would take years more to implement.
Even so, a recent report issued by the Industrial Energy Consumer Group indicated that the amount proposed is only half of what is needed.
"By the time they fix it, it will be too late," said Biederman. "Natural gas is cheap, but not cheap if everyone is switching to natural gas and there isn't a way to get it here."
The only thing that is going to happen in the short term is an investigation. On March 25, six of the region's U.S. senators (including Jeanne Shaheen) asked FERC to see if any speculation or manipulation is involved in the natural gas market. Three days later, the House Committee on Energy Commerce informed ISO-New England that it will be conducting its own investigation.