Harpists in Nashua, and round the world, were plucking for peace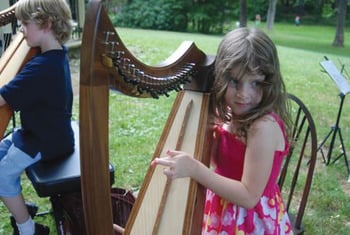 NASHUA – Imelda Murphy doesn't play the harp.
However, she is Irish, which makes issues concerning harps and harpists a bit personal for her.
Murphy, a Dublin native who splits her time between Ireland and Nashua, reads The Irish Times online every day. A recent item by Frank McNally caught her attention.
In his column "An Irishman's Diary," McNally bemoaned that Ireland was having trouble putting together its part of an international Harpists for Peace event, even though the harp is a national symbol.
"If you get a letter from the government, there's a harp on top of it," Murphy said. "No one signing up in Ireland is really embarrassing."
Eventually, a musician named Oonagh Linnett drummed up support, desperately e-mailing everyone from the prime minister to Bono and Bob Geldof, McNally wrote.
Inspired by the column, Murphy – a poet and playwright married to Nashua attorney Francis Murphy – took it upon herself to organize the New Hampshire chapter, which went off famously at the Greeley Park gazebo Sunday afternoon.
"It was absolutely beautiful," Murphy said. "They played for the full hour."
Harpists for Peace was conceived through a group of harpists on the social network site, Facebook. At 2 p.m. local time July 19, harpists from 150 nations spanning six continents plucked their strings in a demonstration for peace.
According to the organization's Web site, www.harpistsforpeace.com, "Locations varied from shopping malls to stately homes, from the front porch of a house to a yacht off the coast of Australia and a beach in Cornwall. There were harpists playing at Ground Zero, the Holocaust Museum and Parliament Square in London. All were united in their aim of offering an hour of reflection to all, and making positive strides towards world peace and harmony."
To get the local event rolling, Murphy contacted a Hooksett harpist who goes by the name of De Luna. She in turn brought four of her students to perform.
"Peace is something that is a really wonderful thing to strive for, both externally and internally," De Luna said, adding that playing for peace seemed a natural thing for a harpist to want to do.
She named her group "Harpers for Hope," and this was their first public performance, she said.
The harpists who performed were Elizabeth Zahn of Nashua, Virginia Lyder of Hooksett, Laural Tienne of Pittsfield and 9-year-old Madison Cavanagh of Salem.
They started by playing "Twinkle Twinkle Little Star" for the children and progressed from there to "Greensleeves," followed by an improvisation for peace by Lyder, the Loreena McKennitt song, "Tango for Evora," another piece De Luna wrote titled, "Quan Yin," after an Eastern goddess of mercy and finally an improvisational peace that honored the elements.
During that last number, some of De Luna's students who didn't feel up to playing in public passed out a pot of earth and seeds for the audience to take home and plant for peace.
The performance drew a small but interested audience, capturing the attention of people bicycling or walking by who stopped a spell to listen.
Photos are posted on www.harpistsforpeace.com and on De Luna's Web site, www.delunaharps.com.
Murphy invited Gov. John Lynch to attend, as the international organizers encouraged that "politicians pluck the harp for peace," she said.
Lynch didn't attend, but he did send along a proclamation that was from the park gazebo.
"He was the only governor in all the states of America who gave one," Murphy said.