Hampton woman markets parents' inventiveness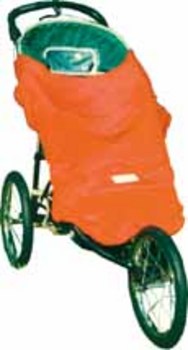 It all started because of her son's baby blanket. It kept blowing off in the wind, getting tangled in the stroller's wheels, becoming dirty dragging on the ground.
But instead of complaining or doing laundry, Sharon Mullen developed a business.
"I thought, 'There's got to be something out there.' But there wasn't. So I made one," said Mullen.
Called the Car Seat Cozy, Mullen took a baby blanket, cut off the corners and adapted it for use with convertible car seats and strollers.
At the time, she and her husband lived with their then-newborn son in Cambridge, Mass., and were taking frequent walks through Harvard Square.
"I knew it wasn't just me that was having this problem, so I paid close attention to the development process and property rights. I did an awful lot of research. At the time, I didn't know about intellectual property or the juvenile products world," she said.
In 1998, she began the patent process and obtained the final patent a year after public disclosure — other fascinated parents coming up to her during her walks.
She began selling the Cozy on line and attended children's products trade shows to learn more. While at the shows, she noticed many of the vendors were marketing just a single product.
"They were parents as well. I talked with them and they were doing the same thing I was. Many gave up their former careers to devote themselves full-time to their product," said Mullen. Again, she said she thought there had to be a better way to get some of these products into the hands of other parents.
In 2000, Mullen augmented her blanket business into a full-fledged on-line store, called Inventive Parent, offering her Cozy blankets and a few dozen other products from "inventive parents."
Today, the 45-year-old Hampton resident sells over 300 items on at inventiveparent.com.
"I've added two other Cozies, a wind-blocking blanket similar to the material combination used by L.L. Bean, and a double Cozy for double-jogger strollers," she said.
One of her favorite products created by other parents includes the SnuggL UP, a super-soft tubular pillow. "I couldn't believe how well I slept with this thing. Having it on line is a little bit of a disadvantage because until you touch this pillow, you just don't understand," she said.
Two other best-sellers are Preggie Pops, a lollipop that combats morning sickness and Quesy Pops, for motion-sickness-prone children. "They are made from herbals like lavender, ginger and peppermint. I can tell they must work because of the number of repeat and overnight orders I get," said Mullen.
The lollipops also come in lozenge form, sugar-free flavors for children, and are effective at easing the nausea associated with chemotherapy.
Although still a young company, Mullen said she has experienced sales growth of 75 to 100 percent each year, investing the profits back into the business.
"I decided not to take a salary for five years. My records are at the tax accountant at the moment, so we'll see if I get a paycheck this year," she joked.
She also noted the number of products customers buy at one time is growing as well.
"It used to be that they would order just one product. Now, my average order is four items," she said.
Mullen said she is focusing on adding new products and services. This spring, she'll offer dozens of new toys, such as the AutoMobil, a mobile with Velcro-like tabs similar to the kind used on disposable diapers, and attaches to the fabric roof liners of cars.
She said she's also concentrating on her marketing strategy. Sometimes, orders fly off the shelves — not because of her promotions, but because of television shows.
"Take the AutoMobil. They weren't selling at all, then all of a sudden, I sold like six in one day. Well, I found out it had been featured on 'The View,'" said Mullen. A similar situation occurred with the TP Saver, a toilet paper dispenser that prevents inquisitive children and mischievous pets from unraveling the whole roll.
Apparently, the TP Saver had been mentioned in The Wall Street Journal, and her orders for the product suddenly increased.
"I am working with manufacturers to try and have them give me a heads up when a product is featured on television or in the national media," said Mullen.
In March, Mullen began offering free delivery of orders of $25 or more within a 10-mile radius of Hampton. "We do about two a day, within 48 hours of the order," she said.
Ultimately, she would like to have a storefront operation. "But that is a long term goal," Mullen said.