GTAT shuts its St. Louis solar wafer furnace plant
GT Advanced Technologies has idled -- and is attempting to shed -- its next-generation solar wafer manufacturing facility in St. Louis, Mo., the company announced Thursday.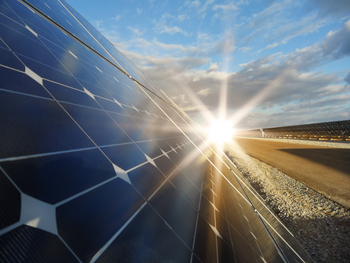 GT Advanced Technologies has idled — and is attempting to shed — its next-generation solar wafer manufacturing facility in St. Louis, Mo., the company announced Thursday.
The Nashua-based company is laying off 35 workers at the facility, which it bought for $60 million in August 2011. GTAT said it will finish development of the technology at its Merrimack R&D facility.
GTAT spokesman Jeff Nestel-Patt said the company would bring "a few key employees" from Missouri, but would not be adding any more positions locally. The move should save the company some $15 million in operating costs, offset by the severance cost of the workers it was letting go.
"We didn't need that facility any longer," Nestel-Patt said. "The product is pretty far down the road."
GTAT manufactures the furnaces used to make solar cells, but a glut on the market has forced the company to look for furnaces that produce more efficient solar cells at a cheaper price.
St. Louis-based Confluence Solar had developed that technology, which produced mono-crystalline solar ingots that were able to transform more sunlight into electricity. GTAT bought the company in its third year, and last summer reportedly told the St. Louis Business Journal that it had since invested $27.5 million into the manufacturing facility and expected to spend about $10 million more.
The Business Journal article also reported that GTAT was planning to hire 55 more workers and start manufacturing by September.
But the glut on the solar market has been longer-lasting than expected — aggravated by a trade war with China — and at the end of October, GTAT announced that it had laid off a quarter of its workforce worldwide, including 40 employees in New Hampshire.
Last month, the company said it would actually lose 10 cents per share during the last quarter and downgraded its revenue forecast for the year by about $200 million.
Next year, GTAT said, it expects revenue to decline by about another $200 million (though it should still top $500 million). Those figures include the savings from the St. Louis shutdown. (Final 2012 figures will be released in February.)Solar furnaces are only expected to account for 1 percent of that revenue, as the company has moved beyond solar technology to sell furnaces that crystallize sapphire for LED lighting and cellphone screens.
GTAT said it won't be able to offer the next-generation solar furnaces until the summer, and doesn't expect many orders until 2014, when the industry begins to recover. That expected recovery is why the company hopes to find a strategic partner to take over the St. Louis facilities.
"These things go in cycles," Nestel-Patt said. "Right now, the solar industry is in a downturn and there is not a lot of investment in new technology. The companies that will prosper will be those that are willing and able to make that strategic investment and be ready for the next upturn."
GTAT also announced a bit of a reorganization at the top. It scaled back its mergers and acquisition division, resulting in David Gray, chief strategy and new business officer, leaving the company on Jan. 25, who joined the company in 2009. Cheryl Diuguid, vice president and general manager, sapphire business, will also be leaving the company, GTAT announced.
Dan Squiller, who hired in July from PowerGenix Corp. — a California company that develops batteries for hybrid vehicles — will be in charge of sales, service and worldwide operations. And David Keck, who GTAT just sent to Hong Kong to direct solar equipment sales there, will also lead sales and services across all business under Squiller.