GTAT opens silicon carbide manufacturing facility
Hudson plant will produce products for solar industry, high-technology applications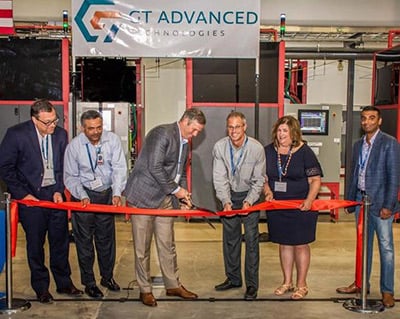 GT Advanced Technologies has opened a new state-of-the-art silicon carbide manufacturing plant in Hudson. The plant, which is also the location of the company's new corporate headquarters, will produce material used in​ high-power electronics including electric vehicles, data centers and solar systems.
The venture is a significant step for GTAT, which filed for bankruptcy in 2014 after its ill-fated attempt to manufacture sapphire for use in screens of Apple's iPhone led to its 2014 bankruptcy. The bankruptcy resulted in a shareholder lawsuit with the former GTAT executives that resulted in a $27 million settlement, with separate ongoing cases.
Silicon carbide is a material that offers advantages such as improved efficiency for fast power-switching applications, including high-temperature and high-voltage applications. Initially a solar-focused company, GTAT had expanded its manufacturing processes to include sapphire as way to diversify its product offerings. Last year, the company told NH Business Review it had attempted to thwart declining business from U.S. tariffs on China's solar panels by shifting its photovoltaic manufacturing to countries like Vietnam and Korea, which were not affected by the tariffs against China. GTAT increased its staff to 104 to meet the anticipated demand.
"We spent the last year developing the technology, and we are just now entering into some commercial agreements with some manufacturers that are looking to expand into the expanding markets," GTAT CEO and President Greg Knight told NH Business Review last year.
GTAT is continuing to commercialize other technologies such as its new tube filaments, used to lower the cost of producing polysilicon, and its continuous Cz feeder, which lowers the cost of producing monocrystalline silicon wafers for the solar industry.
At the ribbon cutting, Knight said the facility "represents a significant milestone for the company's transition from an equipment provider to a materials company."
"This beautiful, new production facility positions us as one of the only companies in the world with the know-how and capacity to offer high quality silicon carbide material for a growing number of power electronics applications in high growth markets," said Knight. "Our expertise in crystal growth equipment, managing supply chains and deep domain knowledge in a number of advanced materials has given us a competitive advantage in meeting the growing demand for wide-band-gap semiconductors."