GT Advanced Technologies posts first-quarter loss
Big Arizona sapphire plant expected to be complete in June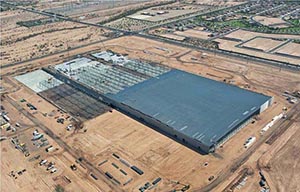 Even with a $111 million payment from Apple, GT Advanced Technologies lost $41 million in its first quarter, primarily due to costs associated with construction of a plant in Arizona that will be used to manufacture durable sapphire screens for Apple Inc.'s mobile devices.
The Nashua-based firm also reported that it will be spending more than expected to expand its Merrimack facility to build sapphire equipment to sell to other manufacturers, primarily for LED lighting and materials used for commercial purposes, such as screens for scanners at the checkout counter.
The loss (31 cents a share) is more than double the $19 million loss suffered during the first quarter of 2013, and the $22.5 million in revenue reflects a 61 percent decline. But it was in line with GTAT's guidance, caused mainly by the decline in the solar sector – which, the company predicts, will be bouncing back over the next year.
Meanwhile, the company continues to invest in sapphire technology, which it acquired in 2010 with the purchase of Crystal Systems.
The Apple deal is going as expected, reported CEO Tom Gutierrez. Indeed, shortly after the quarter closed, the company received a third of four expected payments – this time for $103 million – on the Arizona facility, bringing Apple's prepayment total up to $440 million out of an expected $578 million.
The Apple investment should pay for the plant, but the real revenue from that deal should come when it buys the sapphire materials produced there to use in its iPhones and iPads.
The Arizona plant should be finished by the end of June, GTAT said.
The firm will also be expanding its Merrimack plant, Gutierrez said.
"We'll be adding sapphire production capacity in Merrimack to support our continued R&D initiatives, provide pilot production capacity for our LED business, and add space for some of our other new technology development programs," he said.
That's because sapphire demand appears to be rising faster than supply, and that should push prices up more than 50 percent, he said.
Although sales of sapphire equipment only made up about a quarter of the company's revenue last quarter, they account for nearly half of the company's $600 million backlog, a backlog that doesn't include any future Apple purchases.
The company's solar equipment, which is used to produce solar wafers and the polysilicon material used in cells, suffered as the prices of those wafers crashed, partly due to an oversupply and partly due to a trade war with China.
But polysilicon prices are climbing again, and the company expects there will be more demand for its equipment, although not until next year.
GTAT, however, disclosed one weakness toward the very end of its financial filing, and it had nothing to do with production or sales.
The company said its controls for accounting for tax purposes were "inadequate and ineffective," and it was making changes to rectify that. It is currently in a dispute with the Internal Revenue Service over tax returns for fiscal years 2009 and 2010, and with the New Hampshire Department of Revenue Administration for fiscal years 2010 to 2012.