GSSI seeks to perfect ground penetrating radar technology at new Nashua facility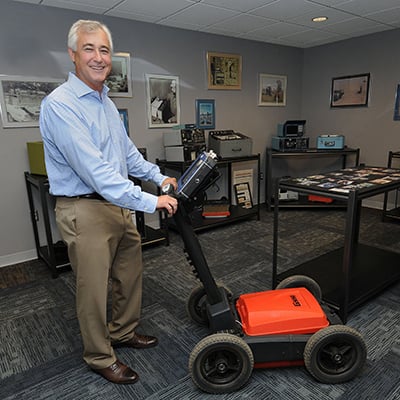 If you watch crime dramas like Bones, CSI or Law and Order, you've probably seen the equipment Geophysical Survey Systems, Inc., or GSSI, manufactures, just not in the actual manner in which it operates.
Ground penetrating radar, or GPR — used in archeological digs, underground utilities work and search and rescue, to name a few applications — enables visibility below the surface. The technology sends signals into the ground or infrastructure, some of which bounce off objects and return to the machine, which then interprets the data, giving the user information about objects below or defects in the infrastructure.
GSSI first developed the technology for geologists in 1970 before introducing its first commercial ground penetrating radar system in 1974.
Over the years, GSSI has developed innovative products to address the global market for subsurface imaging and infrastructure assessment. "More than half of our business is outside of the U.S.," says GSSI President Chris Hawekotte. "Many use our tools to help prioritize some of the work that has to be done, such as rehabilitation and replacing highways and bridges."
Crumbling infrastructure is of particular concern as of late, with the U.S. Department of Transportation recently releasing a report that states a third of New Hampshire's bridges were either "structurally deficient" or "functionally obsolete" in 2013.
Hawekotte explains how the LifeLocator is used to find victims trapped beneath building rubble in the event of earthquakes and other disasters.
"New Hampshire DOT owns our equipment and does utilize it for assessing bridge condition," says Hawekotte.
GSSI's major markets are underground infrastructure and imaging concrete. Its best selling product is the StructureScan Mini, a handheld device that is moved against a concrete wall or floor to determine thickness and locate reinforcing bars, conduits, post-tension cables and voids.
"In many concrete structures, they put braided steel cables through the floor that are tensioned, and that is to provide strength to the structure," Hawekotte explains. "It is very important to know where they are because if someone was to drill a hole or cut through the floor and hit one of these, they would spring, like cutting a rubber band, so it would be very dangerous."
But GSSI's tools can do more than measure the integrity of bridges; they can save lives.
LifeLocator, which can detect the motion of breathing up to 10 meters (32 feet) through a pile of rubble, assisted in finding a man buried under the ruins of a grocer's shop for 11 days in the 2010 earthquake in Haiti. French, U.S. and Greek crews found the 25-year-old man one day after the Haitian government called off the international search and rescue mission, since it's rare to find anyone alive and trapped for more than 10 days.
"One of the things that's unique about the products we make and the technology we're based on is it has a wide range of user applications," says Hawekotte.
That includes incorporating GSSI's GPR technology with an autonomous robot designed by faculty and students at Dartmouth's Thayer engineering school to detect invisible crevasses under sheets of ice in Antarctica and Greenland, allowing safe journeys for researchers there.
GSSI donated a SIR 3000 GPR system to the undergraduate project in 2007. This week, the robot and radar equipment will embark on the second of three annual surveys of the McMurdo Shear Zone in Antarctica, funded by the National Science Foundation.
An autonomous robot designed by faculty and students at Dartmouth's Thayer engineering school pulls along GSSI's ground penetrating radar technology in Antarctica.
Photo courtesy of Laura Ray
"Last year we conducted over 600 meters of radar surveys of the heavily crevassed shear zone using robot-towed GSSI radar equipment with two antennas – 400 [Megahertz] and 200 MHz," says Thayer professor Laura Ray, who co-heads the Yeti project with Steve Arcone at the United States Army Cold Regions Research and Engineering Laboratory in Hanover. "The 400 MHz antenna imaged the top 19 meters and the 200 MHz imaged to the bottom of the ice sheet," Ray explains.
"In October, we'll start a NASA project – funded by NASA with ties to Goddard scientists – where we'll use robot-towed radar to estimate snow accumulation and compaction rate of snow and firn [last year's snowfall] on the Greenland ice sheet," says Ray. "That project supports research on mass balance of ice sheets, an important field for determining the impact of climate change on sea level rise."
Radar data
But, it's the UtilityScan that often appears in crime shows or even the History Channel's Ice Road Truckers. And, as Hollywood often does, it alters the reality of using the equipment, with shots of 3D images of bodies or a skeletal face.
"We've been working with a lot of the prop masters in the last few years to make it more realistic, but there's always that discrepancy with Hollywood and real life," says Jami Harmon, marketing communications manager at GSSI. Although, she says, an episode in CSI Las Vegas came close to the actual image.
In its real world application, the UtilityScan's screen will show essentially squiggly lines that change based on the depth of the objects the radar signal bounces off. The user then interprets the lines to figure out what they mean.
For instance, in the mid-2000s, GSSI worked with local archaeologist Dr. Neill DePaoli, collecting data with the UtilityScan on a patch of land in Pemaquid, Maine, looking for a 17th century homestead.
"When we collect data like this, we look at a top-down plan and we can slice the data kind of like a layered cake," says GSSI International Sales Manager Dan Welch. "As we pull layers of the data, we end up looking deeper."
One symbol on the screen turned out to be an Archaic Native American fire pit.
In another testing area, Welch uses the StructureScan Mini on a concrete slab with plastic piping, reinforcing bars (rebar), conduits and post-tension cables. The image on the screen is like a window into the concrete, showing the location of the objects hidden below the surface.
"It looked kind of like a donut shape," says Welch. "When we do this type of analysis, the term we use is pattern geometries, so we're looking for things like straight lines, circles, corners, things nature generally doesn't make. Once we spot these, we usually flag them and then we have the field archaeologist dig them up."
Ground penetrating radar technology has evolved over the years. Initially, the signals were printed on paper. Hawekotte says real-time, 3-D quality images could be possible in a few years; it just requires stronger signal processing and computer power.
"The future of this is providing an image to the user that is completely intuitive. And so our day to day development team is pushing technology so that we can provide that kind of capability in something that's reasonably priced and accessible to a wide range of users," says Hawekotte.
Open house
That drive for innovation is what led GSSI to its new headquarters in Nashua on Simon Street.
For over 20 years, GSSI was housed in a smaller facility in Salem.
"One of the things that promoted the move is we had outgrown the facility in Salem a few years ago and we were looking for something to accommodate our growth," says Hawekotte. "This facility will give us the ability to expand out to 200 people." The company currently employs 80 and is looking to fill several open positions.
The new facility not only allows for more space but also includes an indoor test area for new clients to be trained on the equipment, a more comfortable environment than the Salem location's parking lot, which had to be plowed every winter.
While GSSI also travels to customers' locations, Hawekotte says about 1,000 customers came annually to their Salem facility to train.
The new indoor test area has targets like steel, concrete and plastic pipes buried at different depths beneath the floor with different soil types, "to emulate what the customer would see in the real world," while using the UtilityScan says Hawekotte.
In another room is the testing area for the StructureScan Mini, with slabs of concrete containing plastic pipes, post-tension cables and reinforcing bars.
On Wednesday, August 12, GSSI will hold an open house from 1:30 to 7 p.m., with facility tours and product demonstrations, featuring remarks by Nashua's mayor and other special guests.
"We're a new business player in the Nashua community so it's an opportunity for us to invite some of our neighbors, local business leaders and politicians to gain some familiarity with GSSI," says Hawekotte.
One room in the front is a mini museum of the evolution of ground penetrating radar technology through the decades. Outside, in the hallways, are photos of the various uses of GSSI's technology from New York City to Machu Picchu. Customer's photos have been used in GSSI's annual calendar for several years. With social media, Hawekotte says it's been easier to collect pictures, which it does through a contest on Facebook.
"The company has grown by continually finding new ways of using the technology and deploying the expertise we have," says Hawekotte. "One of the reasons we moved here to Nashua is to have additional space so, as we push our products into new markets, we can do additional manufacturing and product development."
Liisa Rajala can be reached at lrajala@nhbr.com.