Group pushes for enviro-friendly N.H. schools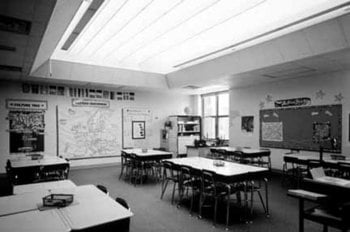 New Hampshire school buildings could be providing healthier, more productive educational settings, contributing to the academic improvement of students, reducing environmental impacts and opening opportunities for local community use – all while saving money for taxpayers – according to a newly formed organization.
The organization, called the New Hampshire Partnership for High Performance Schools, says a high-performance school is healthy and productive for students and teachers because it provides high levels of thermal, acoustic and visual comfort, large amounts of daylight, superior indoor air quality and a safe and secure environment.
NHPHPS – which is sponsored by The Jordan Institute — also says that a high-performance school is cost-effective to operate and maintain.
High-performance design employs energy analysis tools to reduce energy usage and improve natural daylight, employs a life-cycle cost approach that reduces the total costs of ownership, uses a commissioning process to ensure the facility will operate as it was designed and is environmentally friendly, said Patrick Miller, executive director of The Jordan Institute, a Concord-based organization whose initiatives focus on the links between environment, health and economics.
"New Hampshire taxpayers have too often not received full value for their school investments," said Miller. "Cheap energy over the last 40 to 50 years has lulled us into designing and building schools – and buildings of all kinds – that are not durably constructed, that waste energy and other resources and that encourage unhealthy indoor environmental quality. As a result, schools are not lasting as long as they should, are costing communities far more in operation and maintenance costs than they should and are literally making people sick and unable to teach and learn with maximum effectiveness. All of these outcomes are preventable."
Miller said the NHPHPS wants to be instrumental in bringing high-performance school buildings to every community in New Hampshire. To achieve that, the group will:
• Serve as a resource for parents, school administrators, school boards and faculty who are interested in choosing and promoting high performance school buildings.
• Maintain a resource network of architects, engineers, construction managers and other design and building professionals who have expertise in creating cost-effective healthy schools.
• Ensure capacity in the professional design, engineering and construction communities so that local clients can find respected and knowledgeable local service providers.
• Provide leadership toward the adoption in New Hampshire of high-performance school building criteria, such as those developed by the U.S. Green Building Council and the Collaborative for High Performance Schools.
• Inform public policy by providing accurate scientific information on high-performance school buildings to decision-makers in the Legislature, trade associations and non-profit organizations, among others.
Miller said his group's effort is "a long-term program," adding that "Schools are one of the biggest expenses for local taxpayers. High-performance schools, we believe, bring back the greatest return to the local community — in dollars, but also in health, academic performance and environmental stewardship."
For more information, 717-7060 or visit nhphps.org.