Griffin takes renewed heat over testimonials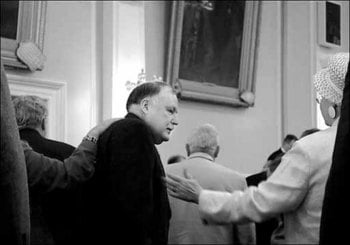 The narrow vote to censure former House Speaker Gene Chandler for his fund-raising mistakes has put a spotlight on Executive Councilor Ruth Griffin, R-Portsmouth, who netted even more money from testimonials without punishment.
Opponents of Representative Chandler, R-Bartlett, say he damaged the public's trust for every elected official. All sides agree it took a toll on him. He paced the House foyer June 1 while awaiting the 189-172 vote that saved him from expulsion. The sergeant at arms stood by the chamber door to keep him out.
Chandler's peers soon voted, 274-86, to censure him for failing to report $68,000 in personal gifts he took from corn roast fund-raisers. After the humiliating roll call, House Speaker Doug Scamman, R-Stratham, called his predecessor to the podium.
"I didn't know this was going to happen," Chandler whispered to reporters on the way forward.
"The House has accepted the report of the Ethics Committee and voted to censure you," said Scamman. "Do you wish to say anything?"
Chandler paused, said no, and 90 percent of the membership rose to their feet to give him a 15-second ovation. The rest sat in dazed silence.
The ovation symbolized the problem, according to those in favor of expelling Chandler: He got away with soiling the image of the House and their own reputations. Rep. Laura Pantelakos, D-Portsmouth, spoke against Chandler in the emotional three-hour debate.
"His guilty plea has brought disgrace on the other 399 members of the House," she told colleagues. "I realize he has suffered and the people of Bartlett stood by him, but they were wrong."
'A black mark'
New Hampshire Public Radio broke the story early last fall about Chandler's testimonial corn roasts. A month after the general election, he declined to seek a new stint as speaker amid probes into his fund-raising by the attorney general and the Legislative Ethics Committee. He soon pleaded guilty to the misdemeanor of failing to report his gifts, was fined $2,000 and agreed to do 100 hours of community service.
Rep. Jim Splaine, D-Portsmouth, voted to expel Chandler and said the House needs to restore its image.
"We need to make the ethics laws easier to understand and tighter," he said in an interview. His committee will study half a dozen retained bills this summer that would impose consistent ethics codes on all elected and appointed officials.
"I feel dirty after today," Splaine added. "This is the tip of the iceberg when it comes to money and influence in politics."
Some lawmakers voiced anger that Executive Councilor Ruth Griffin, R-Portsmouth, admitted to receiving almost $90,000 in non-campaign gifts and escaped the nine months of pain Chandler went through.
"This day is a black mark against all of us," Pantelakos said after the vote. "We might as well do away with the Ethics Committee. I would have voted to censure Ruth Griffin too for what she did. She was arrogant about it. Don't tell me the lobbyists expect nothing from their gifts."
Rep. Jennifer Brown, R-Dover, warned that taking gifts from lobbyists creates the appearance of influence. In that respect, she said, the Griffin case has done the same damage as Chandler's. Both should play by the same rules, she added.
"If it's wrong for me it should be wrong for her," Brown said of Griffin.
But Rep. Rogers Johnson, R-Stratham, said Griffin did nothing illegal. "And if it was unethical, against what standard?" Johnson asked. "That new bill has made it illegal going forward. Does that excuse it? No."
The attorney general cleared Griffin of criminal wrongdoing because she took the step of reporting her gross receipts from several years of testimonial events. Investigators made her file an amended statement to the secretary of state itemizing her gifts. The Executive Council has no ethics committee or guidelines.
'Completely exonerated'
Asked to respond to Pantelakos and others of like mind, Griffin referred the request to her lawyer, Stephen Tober of Portsmouth.
"Please call him," Griffin said. "I'm not part of the legislative process. I don't have anything to say to you about it."
Tober called the two cases completely different because Griffin filed reports of all her gifts in 2000, 2002 and 2004 and used her money for the expenses of her office.
"She didn't use any of it for personal gain," Tober said. "She was completely exonerated after a thorough investigation. She complied with the fund-raising law at the time. She could have done more itemization, but it's a vague statute. She cooperated fully with the authorities."
At the adversarial hearing for Chandler, Assistant Attorney General Bud Fitch explained why Griffin escaped Chandler's fate. The political gift reporting law trumps an older criminal law, Fitch said. The newer statute simply requires reporting any gift bigger than $50. Chandler failed to report receipts of any of his corn roasts until New Hampshire Public Radio exposed them.
"That was the conclusion we came to," Attorney General Kelly Ayotte said late last month. "Under current law you simply have to disclose the gifts."
House Bill 424 awaits the governor's signature to remove that loophole. It bans all cash gifts to elected officials for their personal use. Campaign contributions to help someone gain office will remain lawful.
Tober said HB 424 draws a crisper line for donors and politicians.
Gary Abbott, a lobbyist for the Association of General Contractors, said he hopes it clarifies the rules for both sides.
"You support candidates sympathetic to your clients," Abbott said. "It doesn't really get you anything. It's only to help them get re-elected."
But Splaine is among those who have a general problem with all giving to elected officials, and he saw little distinction between Griffin's and Chandler's actions. But he agreed it made a difference she reported her testimonial money.
"There's a lot of quid pro quo when people contribute big money to a campaign," he said.
The House Elections Committee is working on six bills it retained for further study to create a comprehensive ethics law for all elected officials and state employees in position to shape policy. The bills are a direct result of the Chandler affair, which has led lawmakers to close the huge loophole in election law.
"They're committed to examine all aspects of compliance and hold people accountable," Ayotte said. "The ethics law passed last year is in conflict with an executive order by former Governor (Jeanne) Shaheen. Hers is more restrictive, and there are legitimate questions as to which one applies."
Executive Councilor Ray Wieczorek, R-Manchester, also said gray areas in the law need tightening after the Chandler ordeal.
"I agree you need one set of rules for lawmakers and the Executive Council," he said. "Should we have done this earlier? Probably. You wait until you're forced to."
As for Executive Councilor Ray Burton, R-Bath, he said, "All I know is what I do. I'm not responsible for what others do. All my political fund-raising supports my staying in office."
He said he'd comply with any change in the laws, which he rigorously adheres to now.
"I'm always in campaign mode," Burton said. "Somebody out there is three votes ahead of me already. I keep records on everything."
He reached into his wallet to make the point.
"I stayed at the Comfort Inn last night and ate at Applebee's," he said. "I've got the receipts right here."