GreenPages returns to New Hampshire
Workplace flexibility is centerpiece of firm's new office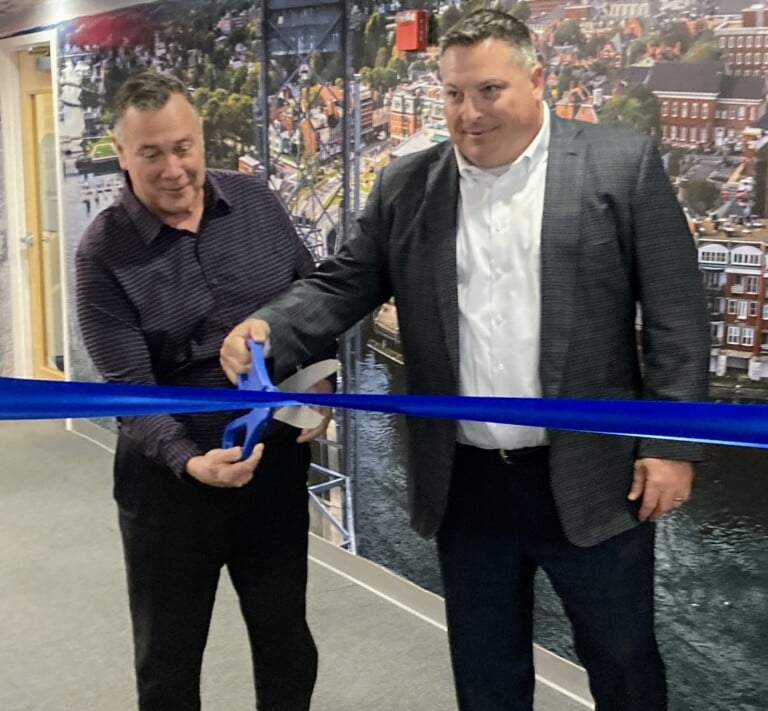 Technology services company GreenPages has returned to New Hampshire, recently opening its new office at the Pease International Tradeport in Portsmouth with an eye on the future of cybersecurity and artificial intelligence.
It is a new office that also recognizes the need for flexibility for its workforce, its 13,000 square feet at 2 International Drive and its corporate philosophy designed to accommodate in-person and remote workers alike.
"This is a new chapter for GreenPages," said Ron Dupler, its CEO of 19 years, at an April 26 ribbon-cutting at the new facility. "We've had a lot of great teams over the years, but the team we've assembled here right now across this company is absolutely fantastic. We have a better opportunity than we've ever had. We're very well aligned with the market and really excited to build new memories, new stories, new chapters at this facility."
GreenPages is a managed services provider, or MSP, focused on cloud, cybersecurity and digital enablement. It started in Portsmouth in 1992 as a classic supply chain company of technology hardware. Customers ordered computer-related products, and GreenPages fulfilled the order.
It moved a few years later across the Piscataqua River to Maine, into a waterside building on Badgers Island, starting a migration in its business model toward less hardware and more services. It also started looking to migrate back to New Hampshire.
Dupler, a Granite Stater himself, had been eyeing a return to New Hampshire for several years, describing it as "one of the more business-friendly states to do business with in the United States."
A lot has happened in the last few years. GreenPages sold the Badgers Island facility but remained there in a leaseback arrangement. It recapitalized with a private equity firm (and remains a privately held company).
And when the pandemic started, "once we got past that initial phase of fear, uncertainty and doubt and got back to running our business – we realized a few things. We felt that the nature of work had changed forever in terms of moving to a hybrid work model," Dupler said.
The company didn't need an office building anymore with multiple floors and individual offices. It needed more efficient, more collaborative space with an open layout. And it got feedback from employees through surveys.
"What we found was that team members didn't want to be fully remote. They missed their teammates," said Dupler. "But they also didn't want to be back in the office five days a week. They wanted flexibility. People wanted to be here a couple or three days a week, so we began doing space planning around that."
Effects of AI
The new office includes dedicated locations for those who want to be in the office more than two days a week and utilizes hoteling software for employees who will come in less frequently. The office can accommodate up to 100 employees.
Its new corporate headquarters is supplemented with offices in Boston, Norwell and Attleboro Mass., and Tampa, Fla.
In the years since its creation, GreenPages has shifted away from computer hardware to a variety of technology services, including but not limited to cloud and cybersecurity managed solutions.
"Today, it's all about cybersecurity, cloud, helping people modernize their businesses and leverage technology," said Dupler.
Access to cloud-based computing services, according to Dupler, has democratized technology, giving everyone access to the tools offered by such giants as AWS (Amazon Web Services) and Azure, the Microsoft cloud computing service. So GreenPages has had to work to keep up and get ahead.
"We've had to surf along with that and reinvent ourselves several times," said Dupler.
"Our primary focus right now is continuing to build out our managed services," he added. "What we do for businesses is help them assess the current state of their technology infrastructure, understand where risks and opportunities lie, then we help them modernize, and ultimately we can manage some or the entire environment for customers. So we're a managed service provider and a managed security service provider."
One task now GreenPages – and technologists everywhere – is understanding both the threats and opportunities of artificial intelligence and how ChatGPT and other content-producing AI bots might change not only business but society in general.
"It's going to have huge implications for business. It's a game -changer," said Dupler. "This is the one piece of technology that's probably going to be more disruptive to white-collar jobs than blue-collar jobs. Maybe the first time in history that's happened. It's a brave new world."
Office space market
GreenPages is certainly not alone in assessing its future infrastructure needs based on the hybrid workforce.
Through 2023, Liberty Mutual, for example, is relocating employees currently assigned to two Dover sites at 100 Liberty Way and 150 Liberty Way to its Portsmouth office on Borthwick Avenue. The intent is not to reduce the workforce, according to the company, but to take advantage of the hybrid workforce model to reduce unused space and optimize its office infrastructure.
Overall in New Hampshire in 2022, the market declined for office space, ending the year with a vacancy rate of 10.7 percent, according to an end-of-year report from Colliers, which has commercial market broker offices in Portsmouth and Manchester.
At the end of 2020, the commercial office vacancy rate stood at 9 percent, then jumped to almost 12 percent in the throes of the pandemic. Although 2022 ended with vacancies 3 percent higher than pre-pandemic levels, it was the first time in almost two years that the rate fell below 11 percent, according to the report.
"While New Hampshire looks to be stabilizing from the impact of the work-from-home model – offices downsizing or closing – 2023 will still be impacted," said the Collier report's author, Kristie Russell, in her analysis. "Some companies may still downsize, while others are realizing the need to have employees back in the office. It will take more time for the market to know the final impact of the new workplace model."
For GreenPages, it is optimistic that its new office will help its business future. "This facility is amazing," Josh Dinneen, president and chief revenue officer, said at the ribbon-cutting. "It's great to be back together with everybody. Let's make the best of it."