Great panes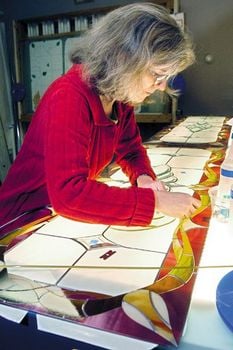 AMHERST – Chris Landry's windows are about to make their television debut.
Landry, the owner of SGO Classical Glass in Amherst, contributed custom stained-glass windows to a Peabody, Mass., home that was recently transformed by the FOX reality show "Renovate My Family."
The show completely renovates a family's home in a week, sometimes tearing down and reconstructing the entire house. While construction takes place, a panel of experts helps the homeowners address their family issues.
The show's producers contacted Landry in November and asked him if he could make several decorative windows for the home in three weeks. Although he had to put aside other projects to finish the windows for the show, he said yes.
Producers told Landry the house would be decorated in a Tuscan style to give him a guideline for how the stained-glass windows should look, but they let him choose the design.
"They gave us pretty free rein," Landry said.
SGO Classical Glass is part of a franchise of around 300 independently owned stores around the world. Landry owns and operates the one in Amherst.
SGO stands for "stained glass overlay." The company creates custom windows that look like actual stained glass, but are really regular windows with a stained glass design applied to the surface.
Regular stained-glass windows are individual pieces of glass bonded together, Landry said, so they are not as sturdy as the windows SGO designs.
On Nov. 20, Landry and three of his staff members went to Peabody to join the crew of almost 100 people in completing the renovation project. Although the whole process took nine days, SGO was only at the site for a day.
However, putting the windows in the home didn't exactly go off without a hitch. Three days before Landry was scheduled to install the windows, he got a call from the show saying the windows in the home were not the same size as he had originally been told. He didn't have time to make new ones, and the windows he had already created wouldn't fit.
But with a little creativity, Landry and the producers figured out how to solve the problem. They installed regular windows and hung the decorative ones
On the Net
SGO Classical Glass: www.sgoclassicalglass.com
Renovate My Family show: www.fox.com/renovatemyfamily