Great NH Restaurants sues Doordash, GrubHub over trademark infringement
Company alleges unauthorized use by delivery services of menus and logos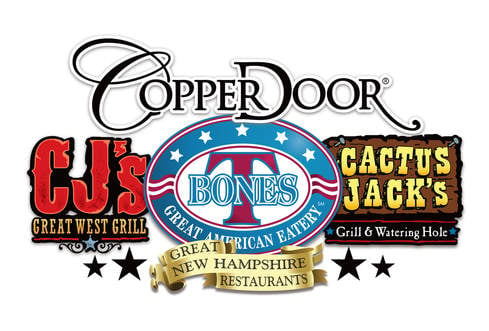 Bedford-based restaurant chain Great NH Restaurants has filed suit against digital food deliver companies Doordash and GrubHub over their unauthorized use of logos and menus on their websites an apps.
Great NH Hampshire Restaurants, which owns the restaurants T-Bones, CJ's Great West Grill, Cactus Jack's and The Copper Door, is seeking a permanent injunction and damages, including the profits the companies made through its restaurants.
The website Law Street reported that in the suit, Great NH says that, in addition to allowing restaurants to partner with them, Doordash and GrubHub will use a restaurant's website or menu to add more options to their service without consulting the restaurant. This can lead to discrepancies in the menus between the restaurant and the options available on the delivery app.
As a result, Great NH says, its restaurants often don't know whether a customer is a delivery driver or a direct customer and because it has no control over the food after it is taken by the driver – including the length of delivery whether the driver is complying with health and sanitary codes – the alleged trademark infringement could damage its restaurants' reputation and cause irreparable damages.
The Great NH suit is part of a trend of lawsuits and public complaints lodged by restaurants against the food delivery services across the country. Essentially, the services are offering food from restaurants without their explicit permission, according to the website Eater. The services' apps use restaurant menus listed online, allowing customers to make selections, and couriers working for the apps place the orders. The restaurants say that the third-party apps are meddling into a service they want control over or often don't even offer.
In the Great NH complaint, Law Street reports, the company says it has received complaints from customers who say it is responsible for the delivery company's services.
"Doordash places GNHR at risk for customer complaints, which would substantially damage GNHR's business reputation, and would result in irreparable damages and financial loss," according to the complaint.
Great NH also says that it has made several requests to the companies to remove its restaurants from their services, but they have failed to do so.
In addition, it alleges use of the trademarked logos is "intentionally and willfully meant to confuse and mislead consumers as to Doordash's affiliation" with the company.
The Concord-based law firm of Rath Young & Pignatelli is representing Great NH Restaurants.