Great Bay, UNH Manchester team up for biotech program
Initiative offers transfer from associate to bachelor's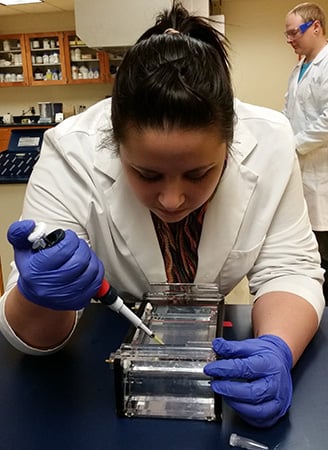 Students studying biotechnology at Great Bay Community College now have a new path to a four-year bachelor's degree thanks to a partnership between Great Bay and the University of New Hampshire at Manchester.
Through the Biotechnology Public Pathways, after completing a two-year associate degree at Great Bay, students can transfer to the four-year program at UNH's campus in Manchester to continue their education.
According to Deb Audino, biotechnology professor at Great Bay, after completing their education at the community college, many students begin their careers in biotechnology at Lonza, the international biologics company that has a facility at the Pease International Tradeport.
the new Biotechnology Public Pathways program allows students to continue their education and qualify for better-paying jobs in the industry in New Hampshire and elsewhere, said Kyle MacLea, assistant professor of biology at UNH Manchester.
"This eliminates the transfer headache by clearly outlining the courses needed to take in the first two years at Great Bay, so students will know exactly how they will transfer to UNH's campus in Manchester," MacLea said.
UNH Manchester began the biotechnology B.S. program in 2015. It was created to train more high-tech workers in the industry. Six students enrolled the first semester, and it grew to 17 by the second semester.
The biotechnology industry supports more than 5,000 jobs in New Hampshire, and that number is growing. The U.S. Department of Labor predicts the industry will grow by about 10 percent over the next decade.