Great Bay Community College launches non-destructive testing program
Certificate to be offered in skill highly sought by manufacturers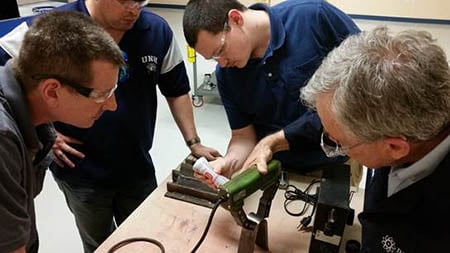 Great Bay Community College will begin offering a new non-destructive testing (NDT) certificate as part of its Advanced Materials Manufacturing Program at the start of the new year.
The college said the program is aimed at meeting the hiring demands of businesses like Hitchiner Manufacturing Co. and Safran Aerospace Composites, which seek skilled specialists in non-destructive testing.
The program will be run out of the Rochester campus, where space is being built out to meet the needs of the program, officials said.
Non-destructive testing involves evaluating the property of a material, component or system without damaging it. It is used in science and technology to test and troubleshoot materials and products in the research and development phase. There are several methods of testing, including ultrasonic, liquid penetrant, radiographic and magnetic-particle.
Great Bay is teaching the liquid penetrant method to start, officials said. As funding for additional equipment becomes available, the college will add other testing methods to its curriculum, including ultrasonic and radiography.
"It's a growing field, with career potential," said Debra Mattson who designed the program and works with area companies. "The demand from employers is huge. I am already getting calls to hire people from our certificate program because employers are so much in need of trained people in this field."
"If Great Bay can meet these requirements, it would be very beneficial for us to send our trainees to a formal training class in the local area," said Donald Chabot, an NDT supervisor for Safran, who routinely sends his employees to training facilities elsewhere to meet national aerospace standards.
"NDT is a highly specialized field with worldwide opportunities," Chabot said, adding that he expects to add 10 to 20 employees over the next year.
At Hitchiner in Milford skilled NDT workers also are in demand, said Matt Wallace, the company's quality director.
"Great Bay's new program will create a nice applicant pool for us, and will also allow us to offer training to our existing employees so they can further advance their skills while we cover the cost for them to do so," he said.
Registration for the class starts Nov. 28, with classes beginning Jan. 3. To learn more, visit greatbay.edu, or contact Laura Williams at 603-427-7770 or lwilliams@ccsnh.edu.