Governor creates commission to tackle workers' comp costs
Panel will look for ways to reduce medical expenses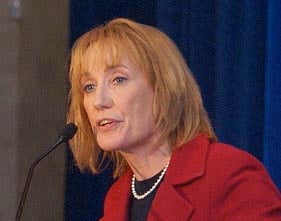 Gov. Maggie Hassan, on Thursday, announced formation of a commission to address one of the most nagging costs facing New Hampshire businesses: workers' compensation.
In announcing creation of the Commission to Recommend Reforms to Reduce Workers' Compensation Medical Costs, the governor pointed out that New Hampshire is "one of the most expensive states in the nation" when it comes to workers' comp.
Workers' comp coverage is now the ninth most expensive in the country, according to the Oregon Workers' Compensation Rate Ranking Study.
As reported by NHBR on Aug. 26, nearly two-thirds of all workers' compensation premiums in New Hampshire go to medical costs, the eighth-highest percentage in the country, according to the National Academy of Social Insurance. On the flip side workers' comp cash benefits to workers have fallen more sharply – by 20 percent between 2008 and 2012 – than in any other state in the nation except for South Dakota.
The commission will provide "an opportunity for stakeholders to identify ways to reduce workers' compensation medical costs and ensure that injured workers have access to quality care," the governor said.
Chaired by Insurance Commissioner Roger Sevigny, the commission is made up of representatives from the insurance and health care industries, and labor is being asked to make recommendations for reform of the workers' comp system. Also on the panel will be Labor Commissioner Jim Craig.
Other members of the commission are:
• Brian Allen, vice president of government affairs at HELIOS (formerly Progressive Medical/PMSI)
• Donald F. Baldini, assistant vice president and state affairs officer at Liberty Mutual Insurance
• Pamela Bronson, administrator at Access Sports Medicine & Orthopedics
• Attorney Paul W. Chant of Cooper Cargill Chant
• Tammy Denver, director of Claims & Coverage Programs at the New Hampshire Public Risk Management Exchange (Primex3)
• Edward Dudley, executive vice president/chief financial officer of Catholic Medical Center
• Mark Erdody, director of New England Claims for Cove Risk Services LLC
• Marc Lacroix, New Hampshire Physical Therapy Association and director of specialty services at Concord Hospital
• David Lang, president of Professional Firefighters of New Hampshire
• Mark Mackenzie, president of the New Hampshire AFL-CIO
• Peter McNamara, president of the New Hampshire Automobile Dealers Association
• Dr. Gregory Soghikian of New Hampshire Orthopaedic Center
• Ben Wilcox, president and general manager, Cranmore Mountain Resort
The commission's final report is due to the governor on Dec. 1.