Google drives $627 million to NH economy
Last year, the search engine helped 5,900 Granite State businesses grow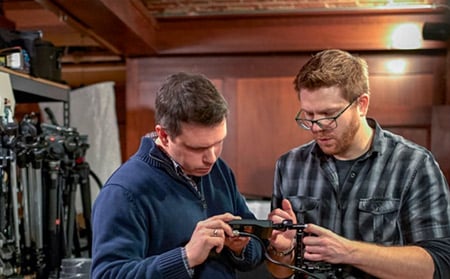 Traffic through Google generated $627 million in economic activity in 2017, according to the ninth annual Google economic impact report. Approximately 5,900 New Hampshire businesses, publishers and nonprofits used Google search and advertising tools to connect with customers. Nationally, that figure grew to $283 billion in 2017, stemming from more than 1.5 million businesses, website publishers and nonprofits.
This year's report highlighted Anchor Line, a video production firm in Portsmouth. Using AdWords since the founding of the business in 2011, Anchor Line says about 50 percent of its new clients originate through Google.
"Our website is the face of our business. It's how people know we're right for them before they even come into our brick-and-mortar store," said Co-founder and Creative Director Kenneth Dodge, in the report.
"Even before Anchor Line, AdWords is what helped me grow my freelance business into a brick-and-mortar shop. When we started this company, it was a no-brainer to me that we would advertise it on Google as well," said Co-Founder Adam Flaherty.
The team also uses YouTube to showcase their work to potential clients, and G Suite tools, such as Gmail, Calendar, and Docs, to power their business operations from client communications to project management.
Anchor Line attributes much of its growing customer base, both local organizations in New Hampshire and multinational brands outside of the state, to Google's ability to highlight their company online.
"It's crazy when you realize that we're a small film community within New Hampshire," said Flaherty. "When people began referring to us as the premier production company in the area, that's when we knew we had created something really special."
A recent national study by Deloitte found that over 80 percent of small businesses surveyed are not taking advantage of online tools. The report found that small businesses that utilized digital tools reap a wealth of benefits. Digital-savvy small businesses are nearly three times to have created new jobs in the past year, are seeing four times higher revenue growth and are three times as likely to reach more customers via increased calls, leads and sales inquiries.
To help more small businesses, Google launched its Grow with Google initiative. The initiative aims to give Americans access to Google's training and tools to grow their skills, careers, and businesses.
"People turn to the web to learn, discover, find, and buy things. Being online can have a big impact; it's where businesses can connect with their customers," said Mary Ellen Coe, president of Google Marketing Solutions, in the report. "At Google, we see the power of the web working for American businesses and we believe that with hard work and the help of technology, every business in New Hampshire can grow."