Good Roads Assn. to give elected leaders a tour of infrastructure needs
I-93 corridor trip will feature highway, bridge projects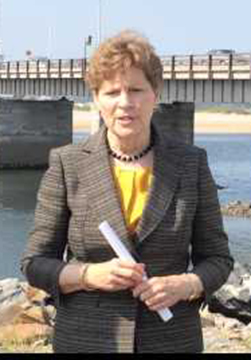 With the state of the state's roads and bridges gaining increased attention from elected leaders in Concord and Washington, the New Hampshire Good Roads Association will be hosting what it calls an "Infrastructure Investment Bus Tour" for members of the New Hampshire Legislature and Executive Council as well as congressional officials.
The tour will include various highway and bridge projects along the Interstate 93 corridor and is designed to highlight what the organization calls "the critical importance of investing in and modernizing New Hampshire's transportation infrastructure and the essential role it plays in the state's economy."
Tour participants will view sites in Concord, Hooksett, Manchester, Derry, Salem and Windham.
The sites are a bridge construction project at Exit 12 in Concord, the new southbound Hooksett Welcome Center, the replacement of five red-listed bridges on I-293 at Exit 4 in Manchester, the Manchester Boston Regional Airport Access Road, the NHDOT Derry Patrol Facility, and I-93 projects at Exits 2 and 3 northbound.
Site contractors will be available at each location to present an overview of each project for tour participants. New Hampshire Department of Transportation officials will also be available at each site to answer questions.
"Our goal is to challenge policymakers to envision the investments, policies and technologies that will help continue moving New Hampshire's aging infrastructure into the 21st Century," said the association's president, John Bousquet of R.M. Piper Inc.
Meanwhile, U.S. Sen. Jeanne Shaheen, D-NH, was among eight members of the Senate's Former Governors Caucus, to write a letter calling on their colleagues to commit to fully funding national infrastructure projects and avoid "the short-term budget fixes that have become common in recent years."
"As state and regional governments forge ahead with ambitious projects, our federal government remains paralyzed," wrote the senators.
The nation's infrastructure was recently given a grade of "D+" by the American Society of Civil Engineers.
Besides Shaheen, the letter was also signed by Angus King an independent from Maine, Michael Rounds, R-S.D., Tim Kaine, D-Va., John Hoeven, R-N.D., Mark Warner, D-Va., Tom Carper, D-Del., and Joe Manchin, D-W.V.