Golf Club of New England: anatomy of a failure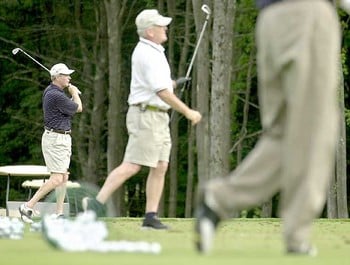 How could the Golf Course of New England fail? That's what its first members apparently thought when they plucked down as much as a $65,000 initiation fee — some even before the first shovel of dirt was moved.
After all, as one member explained, this world-class course was launched by some of the state's "titans of industry." One of the founders, Craig Benson, the former Cabletron Systems head who went on to become governor, financed the project to the tune of $16.7 million. Paul Montrone, CEO of Fisher Scientific, sold the property. The course was designed by a firm owned by golf legend Arnold Palmer, who even blessed it with his presence.
Members are still asking the same question — how could it fail? Only this time the question is posed after the golf club, saddled with $18 million of debt, filed for Chapter 11 bankruptcy protection. Unless someone with big pockets comes to the rescue, these members' investments will be wiped out.
Fingers are pointing in the wake of the bankruptcy. There's even an internal investigation being conducted into whether some golf club officials or board members were improperly giving out free or discounted memberships, according to several sources.
No one from the golf club would return phone calls for this story, but there are more obvious, and less insidious, reasons for the club to fail — a sour economy, lousy weather and over-saturation of the golf market. It's paid-up membership stalled at somewhere between 150 and 180 — depending on who you talk to. But either way, it was far short of the target of 275 members. So without enough paying members, the golf course simply couldn't meet its bills.
Three other high-end private golf clubs were launched in New Hampshire at the same time as the Golf Club of New England, without nearly the same type of financial backing or fanfare. They also have had trouble attracting members, but all are still standing.
Money problems
One explanation for the bankruptcy ironically echoes the charges that Benson often makes at the state government he now heads — excessive spending.
A project that originally was going to cost $10 million somehow continued to mushroom to more than twice that much, with $4 million spent on the clubhouse alone.
"They had a lot less members than they planned," said bankruptcy attorney Dan Sklar, who represents the Golf Club of New England. "Couple that with cost overruns, and the program becomes a lot more expensive than anyone anticipated."
Already besieged by lawsuits, including a $615,000 lien filed by its prime contractor, the golf club filed for bankruptcy on Feb. 19. Also holding the bag were the two towns the golf course straddled. Some $117,618 in back taxes is owed to Stratham, and $103,155 to Greenland. Others owed money include dozens of vendors and the original investors.
At deadline, golf club attorneys were negotiating with Benson's company — Soft Draw investments — for an additional $500,000 to keep the golf course open until June, Sklar said. Unless members decide whether to put up some additional money, the next step will be to sell the course to the highest bidder. A previous vote to increase members' contributions failed. It wasn't even close, Sklar said.
If the owners don't pony up, the club goes up for sale. If it doesn't fetch a high enough price, the members will be out their initiation fee. If no one buys it, ownership reverts to Benson.
Before running for governor, Benson talked about the golf club freely, discussing his vision of a high-tech course where people could read their e-mail while traveling between holes.
But once Benson started his campaign, he distanced himself from the golf club, especially since some of the other founding members — including disgraced former Tyco CEO L. Dennis Kozlowski, now on trial on charges of stealing millions from his own company — became engulfed in public scandal.
Benson has since had very little to do with management of the club, according to his spokesman on the subject, Jack Heath.
'Intense competition'
Benson originally fronted the golf club $12 million. Banks, sources said, had wanted more members signed up before financially backing the venture.
At the time, it seemed as if the bank's fears were needless. All through the last decade, people couldn't build golf courses fast enough. The roaring stock market gave executives the disposable income and the time to take to the greens. Meanwhile, the Tiger Woods craze filled up public courses, driving avid golfers to pluck down membership fees at more exclusive clubs. And since most private clubs had a waiting list, it seemed natural to build more.
Others had the same idea. Four similar golf courses opened in Massachusetts and three others were built in New Hampshire, including Lake Winnipesaukee, which opened in New Hampton in 2002 and started accepting members last year, the Baker Hill Golf Club in Newbury, which also opened over the past few years, and the Montcalm Golf Club in Enfield.
But as plans for these courses got under way, the enthusiasm for golf cooled off, along with the stock market. Rain further dampened the game. Golf rounds were down 5 percent last year, but in the Northeast, where clouds seemed to cling to the weekend, the decrease was a stunning 18 percent, according to a report by the National Golf Foundation.
While weather hurt the public courses more than private ones, growth at the high end stagnated.
"I've been doing this for 14 years, and all these years the private clubs have had a waiting list," said Ben Hale, president and publisher of Divot Communications Corp., which publishes New Hampshire Golf. "Now you have established old New England clubs suddenly open. And most people who are going to pony up that kind of money were already members of one of those clubs."
Yet it was that market that everyone was after.
"The thinking is a more jazzed-up design, with a little higher amenities, would command a higher price," said Jeff Canfield, a golf course broker in Portsmouth. "Sadly, it was overdone. There was intense competition for a relatively small well-heeled group of customers."
Bernard Chiu realized this as he launched Lake Winnipesaukee Golf Club in the footprint of the bankrupt Perry Hollow Golf Club in New Hampton. (See June 27-July 10, 2003 New Hampshire Business Review.)
"We realized the market conditions were horrible," said Chiu, an immigrant from Hong Kong who fell in love with the game after he sold Duracraft, a Boston-based start-up, to Honeywell in 1999.
Chiu didn't depend on outside financing. Nor did he open it up for memberships until the course was finished. And while he won't say what memberships cost, he said that it was far less than what they are going for at the GCNE.
"We set a more realistic fee," he said.
Even so, the club has attracted fewer than 150 members, less than half of its target. Chiu said he isn't worried. The money he has spent has been his own, and he can afford to subsidize it until it can turn a profit.
"I started a club not because I think I could make money but because the land is so beautiful. I did this for the love of the game," he said.
While Chiu was conservative when it came to borrowing, the founders of the Baker Hill Golf Club were conservative when it came to spending.
The club, which opened in 2003, also started out with lower-priced memberships, about $30,000. All the money went into escrow.
The $3 million borrowed to buy the land was paid back in three years. When it came time to build a clubhouse, the board passed the hat among members.
"We didn't build things without the money in hand. We had no outside debt," said Todd Schweizer, the president of Baker Hill Golf Club.
While there were lots of opportunities to spend money, there was a committee that kept strict control over spending.
Take the clubhouse. At Baker Hill "The members didn't want a Marriott or a Ramada. They don't need a $4 million clubhouse," Schweizer said.
But that was exactly what was built at the Golf Club of New England.
William Soupcoff, a Portsmouth architect, designed the clubhouse, which — after change orders — cost about $4.5 million. The 22,000-square-foot facility had a restaurant for 80 members and a mahogany interior finish.
"They could have spent a lot more in the original designs, but they were willing to cut back to keep costs down," he said.
Clubhouses are key to a club's success or failure, said Hale.
"One of the biggest mistakes clubs make is the clubhouse. Show me a new club with a big clubhouse, and I'll show you it being sold in three or four years."
Hale, who has played at the GCNE and loves it, called the clubhouse "grandiose É stunning."
A fancy clubhouse is desirable, but not necessary, says Canfield.
"Granted, if you are paying $65,000 you are not going to be happy changing your shoes in the parking lot," he said. "But from a general standpoint, people go to a golf course to play golf, not to go to a clubhouse and buy a drink."
'A bill of goods'
The financial troubles didn't just involve the clubhouse, although members didn't learn about details of the financial condition until last fall.
"Still, we were hearing rumors while we were playing golf, and yet they seemed to be spending money left and right — money, it turns out, that they didn't have," one member, who didn't want to be named, said.
One problem was clear: The club wasn't attracting as many members as it had hoped.
The board brought in James F. Brennan to beef up membership. That was the function that Brennan had performed well at the Wentworth by the Sea golf course.
But Brennan never had a chance to attract more members, sources said. Instead, he was thrust into the role of a general manager, approving change orders and overseeing numerous volunteer committees.
"Before Brennan, there was no management. It was mismanaged from the beginning. They had different committees doing different things and nobody was answered to anyone. There was no one overseeing the whole project," said the member.
Some say Brennan did an excellent job. Others said he was in over his head. At any rate, membership stalled at roughly 150. At that point, someone started giving away discounted memberships for roughly $20,000, sources agree. As many as 30 such junior memberships were given out. The current board is now investigating whether such discounted memberships were authorized. Members also are grumbling that some members appeared to get in for free, or were not paying for all of their expenses.
"It really pisses me off. They sold me a bill of goods," said one member. "I'm not a rich guy, just a single guy who doesn't have kids that can afford a membership. But that is all the money at my disposal. And then I learn that someone has been giving out free stuff to his friends."
Late last summer the former head of the board, John Kehoe, president and CEO of General Chemical Company, an affiliate of Fisher Scientific, was replaced with Thomas M. Burkardt, a former Cabletron executive, as the new chairman. That's just about the time Benson lent the club another $4.7 million.
Benson, while not involved in the club management, was "concerned" about the direction it was going, said Heath.
Sources added that the governor had refused to provide any more money unless the board changed direction.
However, Benson's infusion of cash simply wasn't enough. Members met last fall to see if individual members were willing to contribute about another $2 million to the club, in addition to a surcharge in the annual $7,000 fee. But members, suspicious of where all the money went, refused.
The course, according to the initial bankruptcy filing, is worth $12 million, less than two-thirds of the amount it owes. The club must pay its taxes and mortgage, and attorneys' fees, before it even gets to unsecured contractors.
Members will be last in line.
There is some chance the course will sell for more than $18 million. That's why it's important to open this spring on schedule.
"It's worth a lot more if it is in operating condition," said Sklar.
Some members, like Chet Homer, chairman of Ocean National Bank, shrug the whole thing off.
"It's like when you join any club. Once you put it in, you assume it's lost."