Going places
Ride-sharing service, Uber, has its fans, and its critics, in NH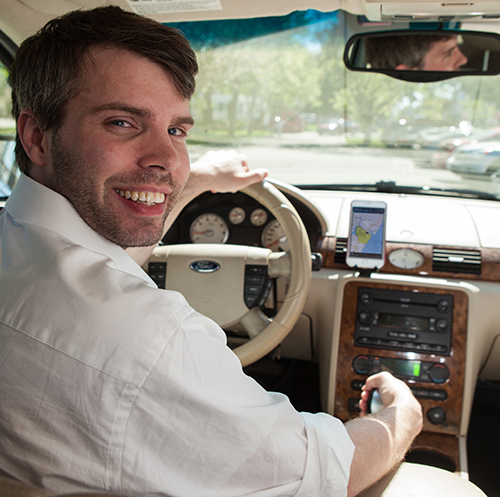 When Uber, the nation's largest ride-sharing service, rolled into Portsmouth in January, Ryan Fallon was its only driver in the area, and there weren't many rider requests pinging on his smartphone.
Today, there are usually 10 to 15 Uber drivers available in Portsmouth, and Fallon, a 29-year-old Somersworth resident, says he has a customer in his car non-stop.
Fallon said he ends up with about $800 for a 60-hour workweek, less than he made in his prior job managing a Wendy's. "We drive because we love to drive when we want to drive. It gives you more freedom. It's great," said Fallon.
"Ride-sharing is a positive amenity for small businesses and residents who work downtown," said Michael Skelton, chairman of the Greater Manchester Chamber of Commerce. "Downtown residents and coffee shops say it adds to foot traffic, and high tech companies say it attracts young professionals who use it. Ride-sharing is the wave of the future. We need to figure out a way to make it work."
But Merle "Crabby Cabby" White, longtime owner of Anchor Taxi in Portsmouth, has a very different view of Uber.
White, a self-described 69-year-old "old fart," had to drop one of his taxis because the required commercial insurance policy – a policy Uber drivers don't carry – costs too much.
Uber ignores regulations, he said, until they get enough of a foothold in a community to change them.
"They bully cities. 'If it ain't our way, we are going to leave.' Well, pack your bags and get out of the damn city of Portsmouth," said White.
But like it or not, Uber and its "disruptive" technology have arrived in the Granite State. Starting last October in Manchester and moving on to Nashua and Portsmouth in January, and to Rye and 19 other communities Memorial Day weekend, the company now has "hundreds" of drivers" and "thousands of customers," according to William Guernier Uber's general manager for Regional Expansion.
Trail of controversy
Since entering the New Hampshire market, Uber has butted heads with municipal regulators in the three cities.
Manchester Boston Regional Airport has a sign displayed telling Uber drivers that they need a license to pick up passengers, but they do so anyway.
The NH Insurance Department has voiced concerns about Uber's version of commercial insurance, which only covers drivers when their app is on. And there are questions about safety, including whether drivers are subject to background checks and the kind of pressure they may be under to continuously check their smartphones while driving.
All of those entities are trying to use regulations that date back to the day of "hackney carriages" to address a business model tied to satellite location technology.
Uber has left a worldwide trail of controversy. It's been banned in Belgium, raided in China, and even sued 50 times in the last three years in U.S. courts.
Its unlimited surge pricing has sparked controversy, particularly during Hurricane Sandy. Uber responded by instituting caps on prices during disasters, but not during times of peak demand.
Uber said surge prices attract drivers to work when their services are needed most, but they still rise above rates set by the municipalities.
But most of the time Uber's rates are substantially below those set rates.
For instance, in Portsmouth maximum rates are $3.50 for the flag drop, $3.60 a mile and 45 cents per minute wait time. Uber's rates are $1.75, $2 a mile and 23 cents a minute for wait time.
Uber's advantage in pricing and convenience are apparent even to those who detest it.
"The business model is brilliant," acknowledged Gerry Mandelbaum, owner of Amoskeag Airport Service, a 32-vehicle limo service in the Manchester area. The company has lost most of its college student passengers to Uber, about 15 to 20 percent of its business, he said.
"They are attractive to today's generation of technology savvy customers," said Mandelbaum.
Mandelbaum said his company is big enough to handle the competition, but "the rest of the industry is getting killed because it's not a fair situation. The cities, they get so enamored by the $40 billion valuation and the high-tech crowd in the Millyard that all the rules go out the window."
A 'safe product'
Uber argues that its service is not a taxi service and shouldn't be regulated like one. It shouldn't have to buy a medallion, register for permits, submit its drivers to background checks or provide traditional commercial insurance, as taxis do.
Manchester ordinances require that taxi drivers submit to state police background checks, but Uber insists that it already does its own third-party checks that are more extensive and up-to-date than the state's.
"We look though your Social Security, we use federal and multistate databases, we go to the courthouse," said Guernier.
Riders "are voting with their feet." "They are comfortable with what we are doing. A person hailing a taxing doesn't know who he or she is getting, but here they get the driver and his picture. It is a very safe product."
Uber drivers interviewed by NH Business Review confirmed that the checks are extensive, delaying their start by several months. But taxi companies said they also vet their drivers, and still must submit to state background checks.
"But no," said John Palreiro, owner of Great Bay Taxi in Portsmouth. "They have to be special: 'We'll vet for you. Trust us.'"
On May 6, the Manchester Board of Mayor and Aldermen threw down the gauntlet: arrange state background checks in 30 days or stop operating in the city. Guernier said he'd think about the company's options.
"We'd really love to be in Manchester," but leaving is "certainly a possibility," he said.
"That would cause a tremendous amount of disappointment," said Skelton. "We believe in the free market and consumer choice, regardless of the business model."
Standards for 'everybody'
It would also be a disappointment to Jerrid Webber of Derry, who said he spends his Friday and Saturday nights "keeping drunk drivers off the streets" as an Uber driver. He said his customers were concerned that Uber may leave, "because they can get a cab quicker with us, and it's actually clean."
Portsmouth put things on hold for 90 days – until early July – enough time for Assistant Mayor James Splaine to propose ditching the city's 28-medallion regulation system, which he said prevents enough taxis from serving the city's nightlife.
Instead of regulations, "we need standards that apply to everybody," said Splaine.
Under his plan, the companies would sign an operating agreement that would include background checks to the satisfaction of the Portsmouth Police Department and a $300,000 liability insurance policy approved by city lawyers.
"I don't see how we could be more flexible," said Splaine.
But the insurance proposal could be a sticking point. Uber's commercial policy is issued by James River Group Holdings Ltd., a company based in Bermuda with a heavy investment in nontraditional insurance. It offers $300,000 liability coverage when the app is on and $1 million when a passenger is in the car. Drivers must get their own personal insurance for the rest, an additional requirement in New Hampshire, where auto insurance is not mandatory.
But many personal auto insurance policies have exclusionary clauses if the driver should use his personal vehicle for commercial purposes, so it is unclear whether there would be coverage even when the app is off.
On March 24, Uber released an agreement with some major national insurers that backs a model framework for legislation that it hoped policymakers would adopt, but that has yet to work its way to New Hampshire agents, said the NH Association of Insurance Agents.
"You have to prove that the app wasn't on at the time," said Judy Durst, the association's education director. "Without it being in a standard contract, we can't say there aren't coverage issues. We are not hearing that this is resolved."
"We are just looking into it," said Barbara Richardson, assistant commissioner at the NH Insurance Department. "If they have an exclusion in their policy, they might not be covered."
The city of Nashua also gave Uber some pushback. Shortly after the company announced its presence, City Clerk Paul Bergeron warned that drivers could face $500 fines or have their car seized if they operated a taxi service without a license, but Uber has been operating in Nashua for months without incident, said Guernier.
Bergeron didn't return phone calls by deadline.
All this has prompted the NH Senate to pass Senate Bill 254, which would create a study committee too look at peer-to-peer sharing businesses like Uber and Airbnb, the home-sharing service.
"Cities are wrestling as how to balance safety and to protect existing business and the opportunity for a more entrepreneurial business model," testified Sen. Martha Fuller Clark, D-Portsmouth, when she introduced the bill in March.
It's now before the House Commerce Committee, which will focus on ride-sharing services
"Uber would like us to intervene and have a statewide law so they won't have to deal with these little cities and towns and all their bulls—t," said committee chair John Hunt, R-Rindge. "I'd rather not regulate, but if municipalities are creating a patchwork of regulations maybe we do need to step in."
That's a path Uber would prefer to go down.
"We support the study committee and will work with it next year to come up with statewide regulatory solutions," Guernier said.
Bob Sanders can be reached at bsanders@nhbr.com.