Globe Manufacturing to present on wearable technology line
NH firm's WASP system uses 'smart fabric' to monitor physiology, location of wearer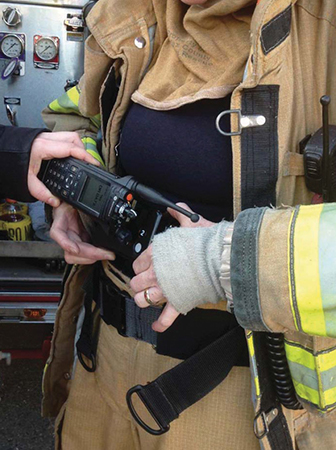 Globe Manufacturing Company of Pittsfield will discuss its use of wearable technology when it delivers a presentation at the first Smart Fabrics Summit, Monday, April 11, in Washington, D.C.
Globe, which produces turnout gear for firefighters and first responders, will discuss its Wearable Advanced Sensor Platform (WASP), a system for real-time monitoring of physiology and tracking the location of people wearing the gear. Globe, and its Rhode Island-based partner on the project, Propel LLC, will discuss the multi-year process of bringing wearable technology for firefighter monitoring from idea to commercial availability.
The WASP system tracks heart rate, heart rate variability, estimated core body temperature, respiration rate, activity levels, posture, and other physiological factors, as well as 3D location inside a building.
The summit, presented by the U.S. Department of Commerce and the Industrial Fabrics Association International, will be moderated by U.S. Secretary of Commerce Penny Pritzker.
Known as "smart fabrics," these new products have the capability to interact with their user or environment, including by tracking and communicating data about their wearer or environment to other devices through embedded sensors and conductive yarns, according to Mark Mordecai, director of business development at Globe.
"Using the WASP system during live fire and resiliency training scenarios can help to improve safety and outcomes and paves the way to using this wearable technology in the field to improve safety for firefighters everywhere," said Mordecai. "Together with health screening and physical fitness, firefighter monitoring is a critical element to make sure that everyone comes home."
He said the WASP system is currently commercially available to training academies and special operations teams and is being installed at the University of Illinois Fire Service Institute in Champaign, Ill.