Globe Manufacturing builds on a history of commitment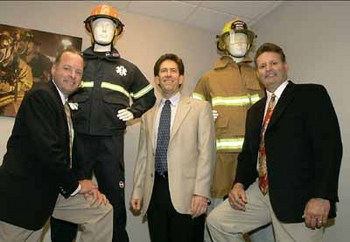 It took a man with a vision and $350 to begin a legacy that would connect a family, a community and an industry together for generations. That man was Courtland F.H. Freese I, the community is Pittsfield, N.H., and the industry is firefighter protection.
Pittsfield-based Globe Manufacturing Company and four generations of the Freese family have remained on the front lines of designing and manufacturing protective clothing for firefighters for more than a century.
"Only 1 percent of U.S. companies make it to fourth-generation management. We are really proud of that," said the company's president, Don Welch, who joined Globe as business planning manager in 1989 and became president in 1998.
Welch's wife Shay is the great-granddaughter of company patriarch Courtland Freese. Shay's cousins Rob and GEF Freese round out Globe's executive team, with Rob overseeing sales and marketing and GEF manufacturing.
When Courtland Freese bought the then-14-year-old coat manufacturing business in 1901 it was following the death of the proprietor, Freese's brother-in-law J.D. Cleaver. Freese moved the business from Lynn, Mass., to space above his Pittsfield harness shop on Carroll Street. Globe Manufacturing has been a leader in the industry ever since.
The first to introduce firefighting suits, Globe invented and patented the original construction concept of a rugged outer shell and the waterproof liner that is still used today. Globe also was the first to introduce DuPont Nomex flame resistant material, Gore-Tex and Cross Tech moisture barrier and 3M Scotchlite reflective strips.
The firm also participated in setting the National Fire Protection Association standards and was the first manufacturer to be ISO 9001-certified.
A 'family feeling'
The story of Globe Manufacturing and the family that has owned it for more than 100 years is a story of commitment to family, the industry they serve and the community they've called home.
It's also a story that has earned this company the honor of being named this month's recipient of the Citizens Bank Not Your Typical Business Award.
"Globe is the antithesis of what is happening in manufacturing today. When so many are losing market share to offshore production Globe continues to be a market leader," said Craig Newcombe, vice president of commercial lending for Citizens Bank. "They take their commitment to the community very seriously. If they were not part of the Pittsfield community, the community would not be what it is today."
Globe has moved three times since its original introduction to the Pittsfield community, always remaining in the town that welcomed it so long ago. Today, 325 Globe employees call a 72,000-square-foot facility on a beautifully landscaped Loudon Road lot home. A second facility employing 42 people recently opened in Oklahoma.
"There are only 12 companies in North America that make turnout gear for firefighters. We are by far the largest. We've gotten there by listening to what firefighters tell us they want and need," said Welch, 48. Globe continues to be the largest in the world.
Welch believes the company holds that title because of a commitment to quality that is shared not just by the familial executive team but by all Globe employees.
"We really try to promote a family feeling here," Welch said. "We just celebrated employee appreciation day where we served lunch to the staff. We gave out gifts all day. We'll have ice cream parties, Christmas parties and give out paid time off. We hope all these things make this a fun place to work — a place people look forward to coming to every day."
Cerina Yeaton has been going to work at Globe Manufacturing for 13 years for these reasons and others.
"It's just a great company to work for. The benefits are great. The owners are accessible at anytime. Everyone knows their roles and works hard at them. We know what we do is important and really matters," Yeaton said.
Because the company understands the importance of its products, Globe goes directly to its customers for input.
"We invite firefighters in all the time. When they're here we educate them on the construction of the product and teach them how we do it. We also get input from them," Welch said. "We need to know what is working for them and what isn't."
"Globe has always been there to work with us," said Manchester Fire Chief Joseph Kane. "They put out a great product and every piece is manufactured to our specifications."
A dedication to getting each product just right is not unlike Globe's dedication to the community it has called home for centuries.
"We are the largest business in the area, so the town looks to us for support," Welch said, adding that they are only too happy to oblige. The business supports everything from scholarships for Pittsfield High School students to money and time for area schools, theater groups and sports teams. Globe also supports the local historical society, the Rotary Club and the Red Cross. Of course, the fire service is perhaps closest to the Freese family heart, with philanthropic support of time and money going toward Firefighter Explorer groups, volunteer programs and the NFPA.
But for the Freese family and those connected with the Globe legacy the greatest contribution they can make to the communities they serve is to continue to do what they can to keep the men and women of the fire service safe.