Giant exhibition center takes shape in Laconia development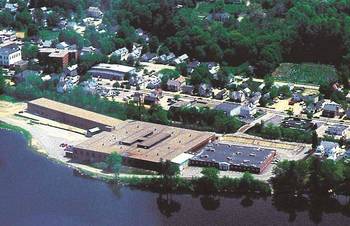 The old saying is that you never know what will happen during Motorcycle Week.
That's the way it's worked out for Raymond Boissoneau.
In 1997, Boissoneau was in Laconia for the annual biker fest when he spotted a "For Sale" sign in front of the old Anchor-Darling factory on Lake Opechee. Six years later, the manufacturing company executive is in the middle of turning the 185,400-square-foot structure into the Winnipesaukee Exhibition Center. Boissoneau says that when it's completed, it will be larger than the Whittemore Center in Durham and larger than the Verizon Wireless Arena in Manchester. In short, the largest exposition hall north of Boston.
"I've been told it's bigger than the Hynes," said Boissoneau, referring to the convention center in Boston.
Since 1976, Boissoneau has owned and operated Electropac, a printed circuit boards manufacturing company based in Manchester. Electropac is the 24th largest North American company in its field with sales topping $30 million this year, according to the owner.
So when he rode past the Laconia building on his Harley in 1997, he was not thinking about going into a new business. Boissoneau, who is an avid collector of motorcycles, cars, boats, furniture, telephones, refrigerators, toys — all kinds of everyday items — was considering the lakefront property as a place to realize a personal dream. He wanted to create a museum of common household items from the last 80 years. He didn't think of it as a moneymaking proposition, but he figured rent from four businesses in the facility would pay the mortgage.
Then Boissoneau met with Lakes Region real estate guru Bill Seed and Eliza Leadbeater, executive director of the Belknap County Economic Development Council. They told him that the Anchor-Darling building was at the center of a lot of local dreams to revive Laconia's old Lakeport neighborhood. They could just imagine lively shops, restaurants, a hotel and other amenities taking advantage of the waterfront area.
All they needed was someone to buy the Anchor-Darling building and transform it into a convention center.
"A lot of businesspeople liked the idea," Boissoneau recalled, "but they were not really willing to do anything about it" by investing any capital.
What concerned most potential investors about the building was the same thing that haunts many with business aspirations about the Laconia area: the lack of immediate access to an interstate highway.
"Location, location, location," said Boissoneau. "We had Boston and Manchester promoters up here, people who do trade shows, and they said it was a fantastic facility — if it was in Manchester or Concord, or even Tilton. It was very discouraging."
A transformation
But Boissoneau wasn't discouraged or defeated.
Although he had no experience outside of manufacturing, he agreed to take a run at the convention center idea if he could use the same financial principles he'd used to make Electropac a success.
In other words, Boissoneau is transforming the massive three-building factory into a combination function facility/exposition hall/restaurant/hotel/museum slowly — step by step. And he's creating all capital for future growth from the profits of currently operating projects.
"All growth has to be funded by success," he said. "I've seen too many of my friends put a ton of money into something, then when a downturn came they ended up going bust. In the last recession, we saw problems coming so we began paying off our debt. When it hit, all we had to do was reduce our operating costs. Lots of others went out of business."
After buying the lakefront property for $187,000 in 1997, Boissoneau immediately began turning a 30,900-square-foot section of the structure, built in 1965, into a multi-room function facility. Two plain, cleanly designed rooms were bigger than anything else in the Lakes Region and began drawing the Laconia-Weirs Beach Chamber of Commerce meetings, local fund-raising events, weddings and bridal and sportsmen shows.
"We have 120 (events) planned for this year (2004)," says Michelle Boissoneau-DuPont, Raymond's daughter and the expo center's property manager. "We had 74 this year, 34 in 2002 and 12 in 2001."
This spring, the facility will add a new outdoor park/entrance that will overlook Lake Opechee and allow people to enjoy the 1,200 feet of lakefront view.
"No matter what we have going on, people just gravitate out there," Boissoneau-DuPont says.
A new parking lot will accommodate more than 500 vehicles, which will overcome a major concern that sponsors of larger trade shows have expressed, Boissoneau said.
After those two projects prove solid, an additional 105,000-square-foot space, built in 1942, will be transformed into additional exhibition space. Boissoneau says promoters of major events such as farm equipment and boat shows are already excited about the idea.
"And Harley Davidson really wants to come back to town during Bike Week," he said.
If those plans go smoothly, the last part of the facility will be developed: a two-story 49,500-square-foot space built in 1956 that will include a restaurant, a lodging facility, a retail store area — and space for Boissoneau's dreamed household goods museum.