Germany takes over as New Hampshire's top trade partner
Saudi Arabia moves up to No. 6 after surge in arms sales from Granite State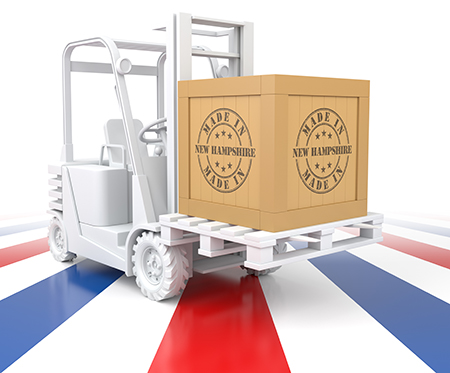 Germany has taken over as New Hampshire's No. 1 trade partner in 2018 and Saudi Arabia has jumped to No. 6, thanks to larger aerospace sales to the former and a huge jump in arms sales to the latter, according to the latest data from the U.S. Commerce Department.
Overall, exports from New Hampshire are up 5 percent to $4.4 billion, which may sound impressive but the increase was a big falloff from the previous year when exports rose by 24 percent. That was one of the highest jumps in the country.
Nationally, exports are up 9 percent, a few percentage points higher than 2017, despite the acceleration of the global trade war in 2018.
The trade war's impact might be more on where the exports are going, as opposed the amount being exported. Exports to our traditional trade partners have stagnated, but others, Germany, Saudis Arabia and Ireland, increased greatly, barring any huge surges at the end of the year.
New Hampshire exported $572.6 million worth of goods to Germany in the first 10 months of 2018, more than twice the amount of last year. Exports to Germany have gone up by a third the previous two years as well, passing both our neighbors, Canada and Mexico.
Trade in North America might have suffered because of the uncertainty surrounding NAFTA negotiations.
New Hampshire exports to Canada have risen 16 percent so far this year, but barely increased the previous two years, so Canada is now our second-largest trading partner.
Exports to Mexico declined 10 percent, after going up 8.7 percent the year before and dropping 12 percent in 2016. This year, the nation occupies the fourth position behind Ireland, where exports have gone up by a third this year and more than doubled last year.
Exports to China – after a 40.4 percent increase last year – dropped 12 percent so far in 2018. It's now No. 5.
Aerospace and arms
Behind the surge in exports to Germany are aircraft, spacecraft and related parts, which nearly quadrupled in 2017 and have so far nearly tripled this year.
Granite State companies exported $350.7 million in goods from that category to Germany year-to-date, compared to $92 million during the first 10 months last year. Manufacturers also exported nearly $75 million in industrial machinery (including computers), up nearly 75 percent from the previous year.
In the first 10 months of 2018, New Hampshire firms exported $206 million in goods to Saudi Arabia, a country mired in the recent controversy over the murder of journalist Jamal Khashoggi and to its ongoing brutal war in Yemen.
While the state's biggest export to the Saudis is electronic machinery – such as sound and television equipment – which increased by a third last year, the biggest increase in goods exported was in arms and ammunitions, including accessories, which rose from $170,000 in the first 10 months of 2017 to $61 million so far in 2018.