GDP data shows NH 'getting our groove back'
State's economy grew by 3 percent in 2016, among fastest-growing in nation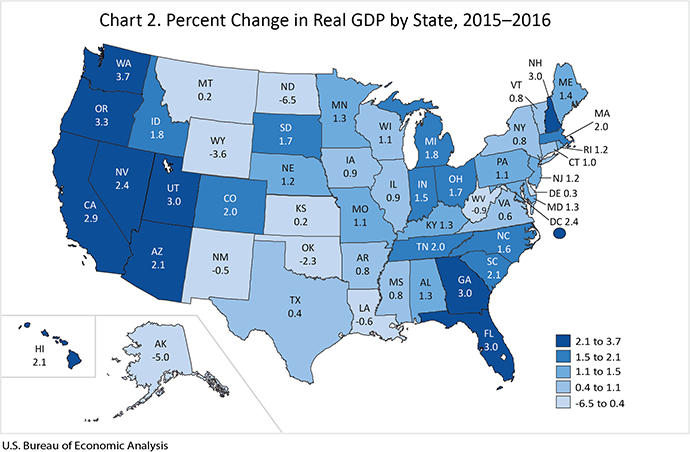 When it came to economic growth since the recession, New Hampshire had been dragging behind its neighbors. No more.
The state's gross domestic product grew by 3 percent in 2016, according to statistics released Thursday by the federal Bureau of Economic Analysis, making it the fastest-growing economy in New England and one of the fastest-growing in the country.
"This state is surging economically," enthused economist Russ Thibeault, principal of Applied Economic Research in Laconia. "It's just great to see. Just last year I was saying we were a slow state, but this data shows that we are getting our groove back."
The GDP – the market value of all goods and services produced – rose in every state in nation in the fourth quarter of 2016, just as the country was in the midst of an election when the health of economy was a major issue. As a whole, the US GDP went up 1.9 percent, to about $18.75 trillion.
New Hampshire's 2016 growth outstripped the nation and all but three other states – Washington, Oregon and Utah.
In the fourth quarter of 2016, the BEA said, New Hampshire's GDP rose 2.4 percent, eight fastest in the nation.
The state's annual GDP growth was twice the U.S. GDP growth rate and was the best growth rate east of the Mississippi River, though Florida and Georgia are close behind.
The second-best growth rate in New England belonged to Massachusetts, at 2 percent, followed by Maine (1.4 percent), Rhode Island (1.2 percent), Connecticut (1.2 percent) and Vermont (0.8 percent).
For the quarter, professional, scientific and technical services was the biggest contributors to GDP, followed by finance and insurance, manufacturing, retail and wholesale trade.
For the year, the GDP growth was driven by finance and insurance, followed by health care and professional services.
"This is not a one-time thing," said Thibeault, who said the GDP fits in with other economic data. "The improvement has been getting better, better and better. It's very encouraging to see us as one of the fastest-growing states again. I didn't think I'd live to see that again."