Garden Street School blaze ruled arson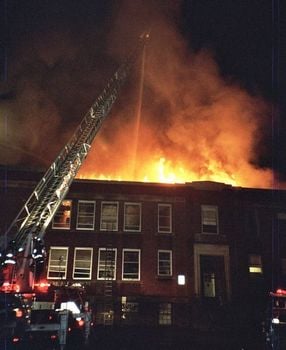 MILFORD – The fire that gutted the Garden Street School was definitely arson and followed an "unlawful entry" into the building, say investigators, but otherwise the early Monday blaze remains under investigation.
"Evidence collection is going on, as are interviews. This could continue this week, next week," investigator John Raymond with the state fire marshal 's office said Tuesday evening.
Investigators continue to believe the fire is not related to today's vote on the future of the largely empty school. A warrant article would tear it down and replace it with a police station.
The fact that the fire erupted the day before the vote led to speculation in town, with some wondering if it had been set to aid the vote, and others wondering if it had been set to interfere with the vote.
"We don't see any connection between the vote and the fire," Raymond said.
Raymond declined to give more details about how the arson was caused, and when or where the break-in occurred. The building was used through last Friday for classes but was unused during the weekend.
Garden Street was an elementary school for 76 years, until largely closing two years ago when Heron Pond school opened. It now houses only the Sage School, a special school for about 20 troubled teens, on one floor.
The Sage School students are being temporarily moved to the closed Bales School on Elm Street. Ironically, that's where school officials had wanted to put the Sage School last year, until nearby residents objected.
Raymond said fire and police officials have conducted up to two dozen interviews so far and could hold twice as many before the investigation is finished.
A 10-foot-high, chain-link fence has been erected around the three-story, brick building to protect the crime scene. There are also some safety concerns about the terracotta walls, particularly because the blaze caused the roof to collapse.
Raymond said Tuesday, however, that plans to bring in a crane to haul out debris had been canceled.
The fire, first spotted just before 1 a.m. Monday, took four hours to extinguish, drawing 15 trucks and more than 60 firefighters from six towns.
One Milford firefighter was slightly injured when the roof collapsed, and two firefighters from other towns were treated for smoke inhalation.
Aside from the Sage School on the second, or main floor, the building held records for the school district's special education department in the basement. The top floor was empty.
David Brooks can be reached at 594-5831 or brooksd@telegraph-nh.com.