Fund-raising rebooted for NH public works employee memorial
Backers seek to revive construction effort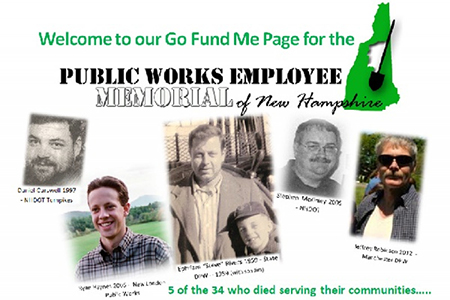 A GoFundMe page has been created to help raise funds to build a public works employee memorial.
The project is the result of a measure approved in 2009 that established a committee to oversee design and construction of the proposed memorial. Since the legislation was signed law by Gov. John Lynch, the committee has determined a site, selected a design and has developed construction plans, but has struggled with the funding since some $25,000 of the $100,000 needed to fund the project, said NH Department of Transportation spokesman Bill Boynton.
Boynton said construction could begin with $80,000 in the bank.
"We found it difficult to ask our friends in the construction world to donate to the memorial fund when, at the same time, they were being forced to lay off employees due to the struggling economy," said Jim Rivers, NH House communications director and the public member of the committee appointed by Governor Lynch. "The entire project was stopped in its tracks over the funding issue," he added.
To revive the fund raising campaign, the committee is turning to social media, with the GoFundMe page, which has a $40,000 goal. In addition, individuals can donate through purchases in the Amazon Smile program. Donations can be made by clicking on the Amazon Smile link and selecting the NH Public Works Association as the desired charity.
Tax-deductible donations can also be sent to the Public Works Memorial Fund, c/o Dave Rodrigue, Commissioner's Office, NH Department of Transportation, P.O. Box 483, Concord, NH 03302-0483.
"Public Works employees are known for being hard-working and dedicated, but not everyone appreciates the sacrifices these employees make, or how hazardous their jobs can be," said NHDOT Commissioner Victoria Sheehan. "While we continually strive to protect our workers and provide the safest possible conditions, unfortunately some make the ultimate sacrifice. Donating to this memorial is a way for New Hampshire citizens to acknowledge that sacrifice, and remind everyone not to take their public infrastructure and the people who provide the most essential of services for granted."