Frustration mounts as Sarah Mildred Long Bridge opening delayed again
May completion is now promised by Cianbro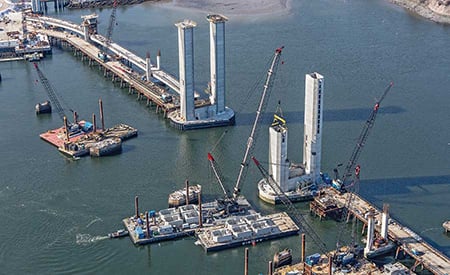 The repeatedly delayed opening of the new $160 million Sarah Mildred Long Bridge has been postponed once again, this time until May – eight months later than originally planned.
According to the Portland Press Herald, Cianbro, the Pittsfield, Maine-based construction company hired by the state of Maine to build the bridge, released a new construction schedule with the May opening. The company did not offer an explanation for the further delay.
The bridge was originally scheduled to open last Sept. 1.
The Portsmouth Herald reported that Cianbro's construction contract calls for a $1,000-per-day penalty for each day the bridge is not open to vehicles beyond the Sept. 1, 2017, deadline. But so far there have been no discussions between the Maine Department of Transportation and Cianbro over how the penalties could be assessed.
But MaineDOT spokesperson Ted Talbot told the Herald the Maine and New Hampshire DOTs were "exploring all options," after the latest delay.
"As you can see from Cianbro's schedule on MaineDOT.gov., they do not anticipate opening the bridge until spring of this year," Talbot told the Herald. "Maine and New Hampshire departments of transportation share the public's frustration with Cianbro's schedule. We are exploring all options."
The bridge opening was delayed by two months in September. At the time, officials said the delay was due a wet spring. But in November, it was delayed again, and in late December an MDOT engineer told the Herald that work was still being done on electrical and mechanical systems related to the bridge's lift span.