From 'Nader's raider' to tobacco industry executive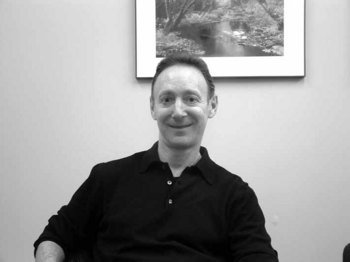 How does a former "Nader's raider" end up as a corporate lawyer in an industry responsible for spreading disease and addiction? As David Greenberg sees it, the change was not all that dramatic.
"I feel like I've participated in more change, had more of an impact in the corporate part of my career than in the consumer advocacy part," said Greenberg, senior vice president and chief compliance officer for Altria Group Inc., which includes the Philip Morris Companies and Kraft Foods.
Greenberg, who holds graduate degrees in both law and business management, was a legislative representative for consumer advocate Ralph Nader and was legislative director and general counsel of the Consumer Federation of America in the 1980s. He was in private practice in Washington, D.C., before joining the Philip Morris company. He visited New Hampshire in February to take part in a presentation at the Amos Tuck School of Business Administration at Dartmouth College, where he spoke to students and professors about corporate responsibility and ethics. During the chat – and one with New Hampshire Business Review — Greenberg addressed whether companies and industries can claim they are ethical given the nature of their products.
Greenberg told the Business Review that he decided to work for the firm after he had met people in the company. "I found it to be a fascinating company," he said. "I thought it was an interesting time. I didn't know exactly what would happen, but I thought that over the next 20 years, there was going to be a day of reckoning between the product Philip Morris makes and society."
That most costly reckoning came in 1998 with the settlement of a lawsuit against the nation's leading tobacco companies brought by 46 states, the District of Columbia, Puerto Rico and four U.S. territories. Among other things, the agreement requires the companies to pay $206 billion over 25 years for the public health expenses related to tobacco-induced lung, heart and other diseases. Greenberg admits the industry had been slow to acknowledge the addictive nature of its products and the illnesses and early deaths caused by smoking.
"Certainly our position is different now than it was then," he said. "I think people in companies convince themselves of lots of things and don't sort of step outside and see how the world is viewing them and what they're saying."
The companies, he believes, relied on a "hyper-technical definition of causation and addiction" to deny the "overwhelming scientific evidence" that millions of smokers were addicted to their cigarettes, often at an early age.
"We've tried to move away from that. I think we try to be open, we try to listen, we try to meet with and engage people who are critical of us," he said. "You know, we've taken a lot of voluntary steps."
The company also has spent some $600 million in recent years on advertising to persuade minors to avoid smoking. Since most lifetime smokers developed the habit as teenagers, the ads, if effective, will likely put a crimp in future sales.
"When you talk to people about what would it mean to be a responsible tobacco company, one of the first things they tell you is, 'Do something about kids smoking.' And so we think it's in our long-term best interest to discourage kids from smoking and to compete for our share of the adult market, as opposed to letting the youth smoking issue get so out of control that it destroys all credibility."
Teaching compliance
Philip Morris has gone from among the smallest of tobacco companies in the 1950s to the largest today, with nearly 50 percent of the total market. Its advertising campaigns in the 1960s made a cult hero out of The Marlboro Man and sent company sales soaring. More recently, the company has been out of magazine advertising altogether and has relied on direct mail and sponsorship of racing events as a means of reaching the smoking public.
Critics, meanwhile, point out that the tobacco companies are still manufacturing and selling a product that puts people in oxygen tents, radiation therapy and early graves.
"Society has decided to let people make these choices," Greenberg said. State and federal governments also rely heavily on revenues from the sale of tobacco products to fund a wide range of government programs. "Certainly they're one of the most heavily taxed commodities," he said. "If the health goals of government are going to succeed, then they have sort of an unreliable revenue source. Look at what governments have done with the billions of dollars they're getting from the tobacco settlement agreement. What percentage of those monies is being used to discourage or prevent smoking?"
But are the tobacco companies really eager to see that money spent on smoking cessation and prevention?
"I think the position of Phillip Morris USA is that a good healthy portion of that money should be used for the purpose for which the settlement was made and the suits were brought in the first place," said Greenberg. The tobacco industry has been in a diminishing market for decades, he said, with just under a quarter of all adults smoking today, compared to the industry high of more than 40 percent. "Again, it goes back to everybody's concern that we crack down on kids smoking. If that results in a smaller market, so be it."
As the chief compliance officer, his job is to make sure the company stays on the high ground and avoids the kind of corporate scandals that have plagued other high-profile companies in recent years.
"We want our businesses to take a look at the kind of risks that they might be taking in terms of laws and regulations, in terms of our own policies and to think proactively and take the steps to reduce those risks. We're trying to educate our people in different areas, from the antitrust laws to insider trading to bribery and corruption overseas to sexual harassment in the workplace."
He also visits college and university campuses to discuss the company's efforts. His trips have included visits to Harvard, Berkley, the University of Southern California and to the Tuck School.
"I think in business school or law school, the hard cases make the best examples for discussion," he said. "So I think in their terms, we'd be one of the more interesting companies." It also has been interesting for the former Naderite who now works on the corporate culture from the inside.
"I didn't come to the company with the idea of changing the company or to be a crusader," he said. "But I just thought that having experienced a lot of frustration trying to change things from the consumer activist side, it might be rewarding and interesting to try the other side. And I haven't been disappointed."