Foster, adoptive parents gather for holiday party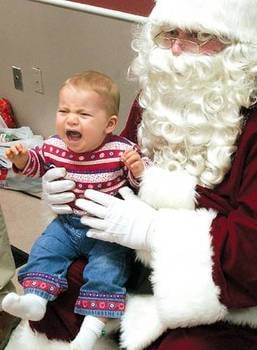 Denise Dube was trying to hold back her tears. She paused to catch her breath as she described what it's like to be a foster parent to five young children.
"It's a blessing," Dube said, her eyes beginning to water. "It's unspeakable."
Dube and her husband, Claude, have been foster parents for six years. They have welcomed a total of six foster children into their home, four of whom they ended up adopting.
But even though their foster children are a part of their family, they understand the children's need to connect with their relatives. That's why the Dube's had no qualms about bringing Arianna, 6, to a party where she could visit with her biological siblings. "We try to get the kids in as much of the foster and adopted functions as possible," Dube said.
Saturday, the Dube's joined other families with foster children at the Immaculate Conception Church for the Greater Nashua Foster and Adoptive Parent Association's annual holiday party.
Arianna's older sister and brother, who live with another family, were also at the celebration. Arianna followed her older sister around the church for much of the party, Dube said.
The kids were kept entertained by craft tables and face painting at the noon celebration. Jeff "the chef" Morris from the Granite State Church of Christ served a homemade turkey and ham dinner. Even Santa Claus flew in from the North Pole to join the party, arriving in the church parking lot via helicopter around 2 p.m.
A crowd of about 100 parents and children filed outside after the meal to watch Santa drop from the sky. When he stepped out of the chopper a pack of kids ran to greet him and followed him into the building for their presents.
The Exchange Club of Nashua provided a gift for every child. They also arranged for Santa to visit and provided the Christmas tree and volunteers. Susan Adie, president of the association, organized the party.
Barbara Noel waited outside for the helicopter with just a few of the more than 80 foster children she has housed in the past 20 years. Right now, she is in charge of four teenage boys, age 15 to 17.
Through the years, Noel has seen children come and go, but she said she still keeps in touch with most of them, especially around the holiday season. Some of her foster children have gone on to join the military and others are grown up and married, she said.
Noel said goes to the annual holiday party, "just to show my kids that there are lots of kids just like them."
There are about 100 foster families in Nashua that house around 180 foster children, said Sylvia Gale, supervisor of the Nashua Division of Children Youth and Families.
Foster parents are often misunderstood, Gale said, because people think they are making a profit by housing the children. However, they are awesome people who care about kids and often end up permanently adopting them, she added.
"I couldn't do what they do," Gale said. "They're doing a very special job and they don't get equally financially compensated for the time and money they spend."
Bill and Maureen Sexton are foster parents because they enjoy having a lot of kids in their home. Since they began five years ago, the Sexton's have had about five foster children. The just got another – a 4-month-old baby – Friday.
"I like kids. I like the craziness. We always wanted a big family," Bill Sexton said.
Now they have it. In addition to their five biological children, the Sextons have two foster children and one adopted child.