Former Claremont hazwaste site deemed ready for development
City to take over ownership in Oct. 11 ceremony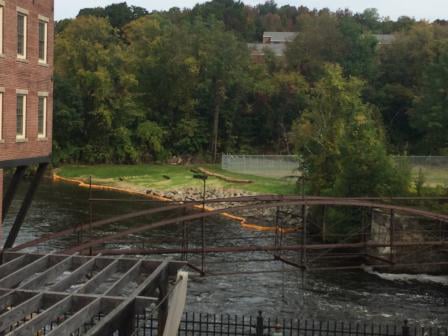 Cleanup of the former Synergy manufactured gas facility in Claremont has been completed and is now suitable for reuse and redevelopment after getting the U.S. Environmental Protection Agency's blessing.
EPA and the NH Department of Environmental Services oversaw cleanup of the hazardous waste site that began in 2015 and was completed in July 2018. AmeriGas will transfer ownership of the property to the city of Claremont on Oct. 11.
The site was contaminated with coal tar, an oil-like substance that was a byproduct of industrial processes that made gas for illumination from 1859 to 1946. The contamination impacted sediment in the Sugar River and soil at the Synergy site and on an adjacent property.
The cleanup included removing soil, sludge and sediment contaminated with coal tar, installing a sewer line, monitoring groundwater for residual coal tar, stabilizing an area of river bank and demolishing several dilapidated buildings.
"Today's milestone is a testament to how strategic partnerships can clean up pollution while creating opportunity for local communities," said EPA New England Regional Administrator Alexandra Dunn. "This outcome exemplifies EPA's commitment to working with cities like Claremont to put once-contaminated land back to use while ensuring public health safeguards are in place."
Environmental Services Commissioner Bob Scott said the cleanup "restored a high-visibility former industrial parcel to conditions that will allow any number of beneficial re-uses."