Ford's Thunderbird: Lost, found and gone again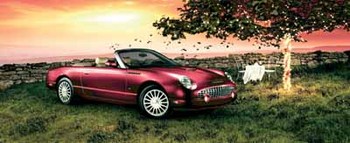 Jay McFarland is a second-generation car dealer with two Ford dealerships, yet the first car he's ever decided to keep is the new Thunderbird.
"I've never kept a car before for myself personally," McFarland said. "But this Thunderbird was different. It's a fun car, easy to drive. It's a car I just felt was worth hanging on to."
McFarland's right about Thunderbird's attributes. The car's meant to be a stylish, fun, easy driving experience, and it is. From the looks I got driving down Routes 1 and 101, the new T-Bird brings smiles and nods, just like its ancestor.
Yet this newly reborn Bird is destined for extinction once more. According to Ford, 2005 is the last model year for Thunderbird. So with a limited annual run of a car produced for only a few years, the investment value of McFarland's T-Bird could be going up.
If my interpretation of automotive history is correct, Ford brought back the Thunderbird to attract a similar audience with the same performance level as when it first hatched. The roughly $40,000 price for the new chick, however, is different. According to Thunderbird historian Jim Smart, the '55 T-Bird cost only about $2,700. In the age of Sinatra and Monroe, the two-seater, V-8 was a steal in fabulously designed steel.
In the old days, T-Bird wasn't meant to be a performance-based "sports car" challenging Corvette or Porsche. Appealing to human speedsters yearning to prowl roads on four tire-smoking wheels was not the Bird's purpose. Ford designed a sporty-looking personal car. It possessed panache and opulence, not muscle, a four-speed stick or a merely functional cockpit.
Picturing Marilyn Monroe driving a turquoise T-Bird convertible with only one finger on the power steering wheel is an easy and romantic mental image to muster. Envisioning Steve McQueen driving one in a chase scene, however — that's not a dream, that's a nightmare.
In the '50s and '60s, the Bird simply screamed for a curvaceous driver, with a "come hither" look in her eye, long painted finger nails, tight Capri pants, strappy saddles and very red lipstick. It got a lot of those too, along with Frank Sinatra and Dean Martin driving it down the Vegas strip on their way to perform at the Sands. What's not to like about that?
That was Thunderbird's heyday, but not its total reality. Ford hit some real grand slams with the Thunderbird, but it struck out often, too. Finding and perfecting Thunderbird's identity was hard for Ford, as illusive as the winged creature after which the car is named.
For example, during its early years, while Corvette was gaining the technology to acquire its persona as a serious powerful, soon-to-be-legendary personal muscle car built for two, Thunderbird was gaining a back seat. There just wasn't enough of a market for the two-seater personal luxury car as first conceived. So, Thunderbird's price escalated as it was redesigned to attract new markets I'm not sure Ford ever succeeded in defining. From the mid-'60s to the mid-'80s, well, Ford had other things on its mind besides Thunderbird, like Mustangs and the GT 40s to name only two.
From the mid- to late-'80s, Ford put some pizzazz back in its Bird. The car itself improved, but with the competition among its own marque, it never regained its '50s stature. Though it lived to once again be seen as a lot of car in its price range in the 1990s, in 1997 Ford shot the Bird down.
Smooth, classy
When nostalgia began to rule the automotive day, Ford floated the trial balloon of bringing the T-Bird back. There was real interest, from drivers and the automotive press alike. The 21st century T-Bird is all about the '50s, including the market for which it's aimed. With its current cost, the two-seater's retro design and automotive luxury make it a car for the "Young at Heart," not Generation X or Y, nor for the asphalt-scarring set. Once again, the graying baby boomers are the focus, and if bank balances allow, this is a really great second or summer car for empty-nesters.
My dilemma with Ford's newest nest of Thunderbirds is its price. Forty thousand is about what it would cost T-Bird enthusiasts for an original '50s-era Bird in the classic car market, and they aren't that hard to find. I can't figure why Ford priced the current Thunderbird that high, unless it actually cost that much to develop and build, which is unfortunate, given the competition.
Contrary to what Ford professes, I don't believe the new Bird's competition is BMW's Z4 nor Porsche's Boxster. These are more performance sports cars for those with power cruising on their usually male minds. Thunderbird has a V-8, that's true, and with 280 horsepower it's no push over, but it doesn't have a tight, mean, sports car feel — nor was that the intent.
Smooth is the adjective that came to mind after I drove the T-Bird. This is a really nice car, but I think its competition is more Mazda's Miata or Chrysler's Sebring convertible, though the latter has a back seat. The élan would be missing, but for less money both of these cars can be loaded to include T-Bird options.
McFarland is right, however, the T-Bird is the keeper in that bunch.
There's easily enough power in Thunderbird's 3.9-liter, 32-valve, double overhead cam, aluminum V-8 to please the luxury-minded, vigor-conscious driver. When I put my foot down, this bird took flight automatically — there's no manual tranny offered. No, I didn't get whiplash off the line, but whiplash is rarely required by those looking for comfort and elegance.
This car did highways very nicely, made stop and go traffic a breeze and took curvy roads with ease. The ride was smooth, the driving effortless, the interior classy, the exterior sentimental. The new Bird's sassy, narrow and low with a small cockpit, just like its granddaddy. The only problem I found was that I smacked my head on the hard top getting out, and I'm only 5-2. For six-footers, this car should come with a lifetime supply of Band-Aids. Drive it when it's sunny with the top down, however, and that problem disappears beautifully.
As to why the car's going bye-bye in 2005, the problem is declining sales. Should sales pick up, McFarland said, the drop-dead date could be extended. McFarland sells from 10 to 20 Thunderbirds a year. That may be enough for some dealers, but I don't think this car is one that keeps owners coming back for the newest model.
If Ford has the same reservations, it could figure its money is better spent elsewhere instead of allowing the Thunderbird to continue taking up production time and space.
But even with its short life span, McFarland doesn't think the Thunderbird experience was either unproductive or wasted. He is very positive about the entire experiment, feeling such retro-endeavors keep domestic cars exciting. As American car companies continue to battle foreign imports, McFarland is right again.
Thanks to Jay McFarland and Hampton Ford for their help with this article.