For some projects, NH's new net metering cap has nearly been reached
Despite new law, Eversource has less than a megawatt of space for new renewable energy developments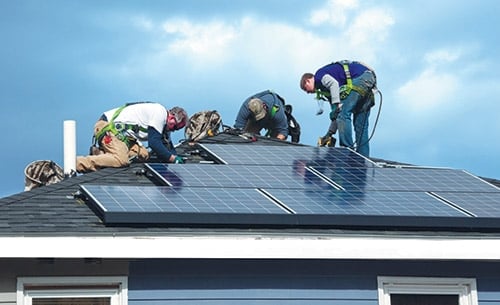 New Hampshire's new net metering cap, signed into law this week by Gov. Maggie Hassan, has already been practically filled up for larger projects, at least in the Eversource service area.
That means there will probably be no large renewable energy projects in that area, except for those already in the pipeline, at least for the next 10 months, while the NH Public Utilities Commission comes up with a new way to credit projects that generate excess energy that is sent back to the electric grid.
On Monday, the governor signed the bill that doubles the cap on all such projects to 100 megawatts. It went into effect immediately.
Under the law, smaller projects of less than 100 kilowatts, mostly homes and some small businesses will be allocated 40 of the addition new 50 megawatts. Larger projects will get the other 10 megawatts.
The categories also get reimbursed differently. Larger projects are only credited for the default energy rate, while smaller projects receive the full retail rate for the electricity they generate.
But Eversource, the state's largest utility, which is allocated 7.8 megawatts of the new capacity for larger projects, already has a waiting list of 16 projects with a total of 7.2 megawatts, plus about 10 projects totaling 7.8 megawatts, are not yet finalized complete. While some of those 10 projects may not finally get off the, those that are nearly ready to go easily total more than 0.6 megawatts.
The PUC has changed the rules in the queue somewhat, toughening them up so that no project could take a place in line unless it is ready to actually be built.
Projects have until May 18 to meet those new rules. In addition, the Legislature passed a law saying that no single company can hog more than a fifth of a utility's net metering capacity. Either of these changes might force some projects out of line, letting in others.
Smaller projects
There is more room for smaller projects in the Eversource territory. Right now, some 422 projects taking up about 4 of the 31 megawatts allocated for that utility.
The other utilities affected by the net metering law have more room in their cap.
With one major developer in its queue downsizing its plans, there are no other larger projects waiting in Liberty Utilities' queue, though the utility has slightly less than a megawatt of capacity available for such projects. The smaller projects on the waiting list in its service area total less than a fifth of a megawatt, and the utility has 3.7 megawatts of new capacity for that purpose.
Unitil never reached its cap, so it had no waiting list.
Kate Epsen, executive director of the NH Clean Tech Council, who lobbied for lifting the cap, called the new law a "good start," but "everybody knows it was a short-term fix. There is still a lot to be done at the PUC."
The Legislature imposed a cap when it passed the net metering law back in 1998, but the industry didn't even get close to the 50 megawatts until last year, when the solar energy industry exploded, partly because the price of solar panels dropped and partly because some new national companies set up a leasing arrangement that allows users to install solar projects with no money down. In addition, a new state law allowed group net metering, enabling those enabled larger projects.
The solar energy industry argued that the cap – even when doubled – was much lower than those of neighboring states, and stifled the industry in New Hampshire. Utilities, however, net metering amounted to a subsidy paid by their of ratepayers for solar energy. This was disputed by solar advocates, particularly when it came to larger projects. The two agreed to let the PUC decided the matter, and those proceedings should start in the next few weeks.