For N.H. renters, rising rents and fewer vacancies
From 2008 to 2013, median gross rental costs rose in every New Hampshire county except one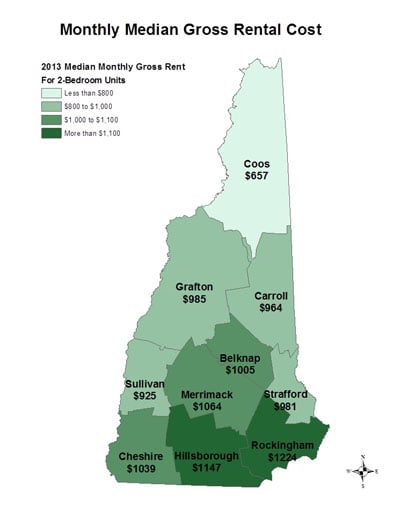 The median monthly cost of two-bedroom apartment in New Hampshire is $1,076, including utilities, but costs vary widely depending on which county that apartment is located in.
Rental costs are the least expensive in the northern part of the state, and become increasingly more expensive as they approach Massachusetts and the Boston labor market area. That's according to the New Hampshire Housing Finance Authority, which recently released its annual residential rental cost survey.
The majority of the state's rental housing is located in the southeastern corner of the state. Just four of New Hampshire's 10 counties – Hillsborough, Rockingham, Merrimack, and Strafford Counties – account for nearly three-quarters, or 73 percent, of all the rental housing units in the state.
Coos County has the lowest median cost for a two-bedroom apartment, where the monthly median cost is $657 per month; on the other end of the spectrum is Rockingham County, which has the highest median monthly rate in the state, at $1,224 for a two-bedroom unit.
Rental housing in the state is in high demand, the authority found, with a statewide vacancy rate of just 3.3 percent. The authority attributed the high occupancy in part to the pressure that households coming out of foreclosure have put on the rental market.
"There are signs of construction activity in the southeastern portion of the state, but even once those new rental units come into the market, there will still be high demand for quality affordable rental housing in this most populous area of the state," it said.
From 2008 to 2013, median gross rental costs rose in every New Hampshire county except Cheshire, where they declined 1.2 percent. Of the counties that saw median costs increase over that six-year period, Strafford had the smallest percentage gain of 1.7 percent, while Grafton witnessed the biggest percentage gain, with rents rising 13.1 percent.
For the full findings of the survey, click here.