Focus on Manchester: Q&A with Stephanie Lewry of Intown Manchester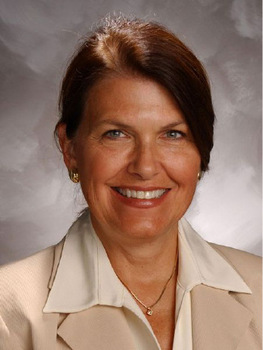 Stephanie Lewry, executive director of Intown Manchester, spent the early part of her life discovering what Gertrude Stein meant when she said of a city (Oakland, Calif.), "There's no 'there' there." A "Navy brat," Lewry was born in San Diego, but spent her formative years in Arlington, Va., where people call counties, rather than cities, home, and downtowns tend to be both hard to find and undefined.
"Manchester is the first place where I've lived where you felt like you knew where you were when you got there," says Lewry. She has been in Manchester since 1974, has raised her children there and has done volunteer work over the years, most notably with the League of Women Voters.
She took a job at Intown Manchester as an intern when the organization opened its doors in 1996 and became executive director in 2001. An advocate of living and working as well as dining, shopping and investing in downtown, she lives on River Road, close enough to her downtown office to walk to work if she desires.
Q. What is the mission and purpose of Intown Manchester?
A. Intown is a downtown management company, "management" meaning commercial property management. We derive a tax from commercial properties within a certain defined area that's called the downtown, and that tax supports the activities of Intown Manchester, primarily cleaning the sidewalks and the alleys, removing graffiti, doing litter removal and leaf pickups and anything that is necessary to keep the downtown clean looking.
We also provide beautification services for which we raise the money, and we plant flowers and try to make the downtown look a little bit more attractive each year.
Each year we try to get a new project started. And then we have promotional activities to promote the business environment, to encourage people to come down and shop downtown, to encourage people to think of downtown as a great place to live and, of course, to work downtown and to promote the old "Live where you play and work" concept.
Q. Are there misconceptions out there about what Intown Manchester is and what it should be doing?
A. I think that it's not so much misconceptions of what we should be doing, but I think that because we are a visible and very accessible organization, people come to us sometimes thinking that we're going to be able to solve some problems that we can't solve. But in truth were just like any other business in that if we can't help you ourselves, we'll try to find the resources to help you. So we are connected with just about every city resource that there is, and we will try to help people who need help from the Economic Development Office or the chamber or the Parks Department or the Highway Department, if that's necessary.
Q. You are, as you say, connected to city resources, but this is not a city agency.
A. We are contracted. We are a nonprofit that contracts with the city to provide the services to the downtown. We are not a city department, but we are funded by taxes, so we are a kind of a quasi-public organization. But we are here to promote the private sector and to encourage the private sector to invest in downtown and stay downtown and live downtown. We kind of straddle both realms, the public and private.
Q. There has been an influx of newcomers of various nationalities and languages into Manchester.
A. Yes, the ethnic composition is changing and I think it's really an interesting, vibrant community.
A good example would be our farmers' market. When you go to a farmers' market, you'll see people from all different walks of life. The farmers' market is on Concord Street, so it's not too far away from where people live if they live in the downtown area. I've had people tell me how much they enjoyed coming to Manchester's farmers' market because you can see almost every ethnic group that we have in Manchester at the farmers' market.
Q. You work in an office with glass walls and glass doors on the ground floor at Elm and Hanover streets. Do you ever feel like your living in a fish bowl?
A. We don't really feel that way. I think maybe we've just gotten used to it. We understand that we have a window on the world and if the world wants to come in, they can come in.
Q. Some people are fearful of being downtown at night. Are you?
A. Not in the least.
Q. Do you find more restaurants downtown staying open later nights now, instead of saying, "The kitchen's closed" at 6 o'clock?
A. Oh, no. Restaurants wouldn't want to close at 6 o'clock. They'd want to stay open until 10 or 11. They want to stay open and catch the evening traffic. There's a lot of evening traffic. I was in Concord on a Friday night two weeks ago to go to the movies, and we got out at 10 o'clock and that city was absolutely dead. Nothing was open. No place to go. And Manchester was vibrant. There were a lot of people out, there were cars up and down the street, the lights were on. And I thought, "You know it's a wonderful place to be, in Manchester, because on a Friday night, that's what you expect to see." A quiet little sleepy town might suit some people, but it's not the vision that we have for Manchester.