Flotsam & Jetsam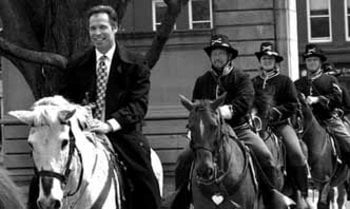 Craig, we hardly knew ye
Others may have mixed feelings about the coming departure of Craig Benson from the Corner Office, but F&J knows which side our bread is buttered on. No other governor in history gave so much to F&J in so little time. Here are some of our favorite Bensonisms, mined from the mother lode of material known as the Benson Administration.
"We're not making it a condition of your employment." – While unveiling a "Web site tutorial" on ethics and workplace conduct in general for state employees. (January 2004)
"I like that you made that decision off the top of your head. That's what we're going to be doing around here." – To then-House Speaker Gene Chandler, who had just introduced the newly inaugurated governor as "Governor Craig Benson" for the first time. (January 2003)
"You never know what I'll do. That's the beauty of me." (February 2003)
"You are your best salesperson." – Advice to participants in a workshop he helped conduct at the New Hampshire Community Technical College in Berlin. (February 2004)
"I have no patience." – After deciding to jaywalk across Bridge Street in Concord, even though the traffic light read "Don't Walk" and traffic had to slow down to allow him to reach the corner. (March 2004)
"I just took office a month ago, and a budget is due next month. There is no way I can get around to every department to find out what's needed by February." – On the budget process window. (February 2003)
"My biggest disappointment so far is getting up the learning curve fast enough." (April 2003)
"I tried to do this tollbooth thing, and you'd think I killed the pope." — On the criticism he faced after initiating the one-way toll experiment on I-95 in Hampton. (August 2003)
"We have a lot of tree-huggers, and we're going to have to saw the trees down and not let them keep hugging trees. I'm not going to be quiet anymore and accept the status quo." (May 2003)
"We all have conflicts, whether we're paid or not, based on outside activities." (May 2004)
"The way you have to beat this is to hire good people that are here to do the right thing. If people are going to try to cheat the system, unfortunately there are never enough laws to be able to deal with that." (Sept. 2003)
"I don't have to be loved. You don't even have to like me if you don't want. It doesn't matter. I came here to get a job done." (September 2003)
"People who want change are thrown out the second-floor window." (November 2003)
"The only person who agrees with me is me." (November 2003)
"I have a pretty long agenda. I'll bet you I'm going to be here for a while. It's not a two-year assignment. I'm here to get the job done. And I do spend long hours doing it, but even with the long hours, I bet you I'll have trouble doing it in two years." — Benson after being asked if he would seek another term in 2004. (April 2004)
"I don't know what people are so afraid of about hearing from the people. What's the worst that could happen?" – Calling for a vote on a constitutional amendment on school funding. (June 2004)
"I am a loose cannon. And to the extent that I lose the reputation as somebody who's a loose cannon, then I'll lose my effectiveness." (September 2003)
It's been making the rounds…
• You can stop holding your breath if you thought that would have prevented Kathy Sullivan from being state Dem chair again.
• What a surprise: Benson press secretary Alicia Preston lands a job with Meridian Communications, co-owned by Jack Heath, Benson's former image consultant and the man who came closest to delivering a concession speech for the governor.
• So Benson handed out $7,500-a-month make-work jobs to four "exit team" members. But are there any Christmas bonuses in the offing for some longer-term staffers?
• It's apparently true that outgoing First Lady Denise Benson announced at a Seacoast Federation of Republican Women meeting that she was planning to run against state Sen. Martha Fuller Clark of Portsmouth in '06. Think she'll have enough money to take on Martha?
• So who IS going to be the next state GOP chair?
• Almost to a person, members of the House had nothing but good to say about former Speaker Gene Chandler. So why are so many of them rejoicing that Doug Scamman is planning to run the place so differently from Chandler?
All charges great and small
Considering the pull the man likely has, former Bush New England campaign chairman James Tobin might have expected a slightly warmer welcome from U.S. Magistrate Judge James Muirhead earlier this month.
Tobin was indicted Dec. 1 – almost a full month after election day, coincidentally (or was it?) — on charges linked to the now notorious New Hampshire 2002 GOP phone-jamming conspiracy. He showed up not long after in Judge Muirhead's courtroom in Concord.
After ordering Tobin to surrender his passport and any weapons and report to pre-trial services — like any other criminal defendant – Muirhead told Tobin he wasn't giving him any special treatment and that he was "no different than a street hooker in Manchester. If he's guilty, then I find his crime as offensive as any other crime."
Perhaps more so, actually. Muirhead added in his lecture to Tobin that the crime with which he is charged – disrupting the electoral process — is an "outrage against the Constitution."
You don't say
He might not always live up to the billing, but Executive Councilor Ray Burton proved to be a master of understatement earlier this month.
Amid the hullabaloo over the governor's last-minute now-you-see-it-now-you-don't nomination for education commissioner, it became clear that Benson hadn't followed the law (he was supposed to consult with the state Board of Education), let alone protocol.
Putting the whole thing in perspective, Burton uttered: "The process seemed to be flawed."