Flotsam & Jetsam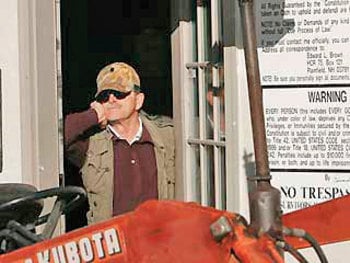 Just say no to 'nannies'
There's more than a little irony that, in GOP presidential wannabe Rudy Giuliani's travels around New Hampshire, he's been scaring his audiences with the threat that Democrats seeking the office all want a "nanny" government. The implication being that they'd set up programs that would limit the choices and decisions individuals would be able to make.
It's basic red meat for the kind of audience Giuliani's been attracting, but the reality is that the former New York mayor isn't about to win any medals for advancing individual freedoms. (In fact, he has been given the Thomas Jefferson Center for Protection of Free Expression's "lifetime muzzle" award for his "disregard for — or inadequate understanding of — free speech principles.")
In fact, while serving as mayor of New York in the '90s, he had a very different outlook on individual freedoms.
"Freedom is about authority," Guilani said. "Freedom is about the willingness of every single human being to cede to lawful authority a great deal of discretion about what you do and how you do it."
Interpretive dance
Christopher Doyle, the former Windham state rep charged with assaulting a 61-year-old woman in a polling place temper tantrum over two years ago, is working overtime to avoid being a poster boy for personal responsibility.
The then-26-year-old Doyle is accused of knocking over supervisor of the checklist Gail Webster, 61, on election night in March 2005, shortly after learning he lost his bid for re-election. He and his attorney have tried ever since to either water down the charges or get them thrown out.
They are continuing their bid to get off on a technicality. They argue that Webster shouldn't have been working as a supervisor of the checklist because she was on the ballot for another elected post – cemetery trustee.
Why does that matter? Well, if Doyle is convicted of assaulting an election worker, the penalty is a felony, carrying with it a maximum three-year prison sentence and a $4,000 fine.
Doyle argues that, since she shouldn't have been working at the polling place that day, she shouldn't have been considered an official, so he shouldn't be charged with assaulting an election worker. Plain old assault on a 61-year-old woman by a 26-year-old man is just a misdemeanor.
Rockingham County Superior Court judge Patricia Coffey has already said Doyle's argument doesn't hold water. So now he's asking the state Supreme Court to bail him out.
Whether the justices do or not doesn't change at least one essential fact: Doyle hasn't denied that the assault occurred – an assault, if you need reminding, of a 61-year-old woman.
When they say it's not about the money … it's about the money
OK, maybe you buy Ed and Elaine Brown's argument that they don't have to pay federal income taxes. But the tax evaders/protesters' most recent entanglement with authorities should raise a red flag about his real motives.
Brown, holed up with his wife in their Plainfield castle-compound-fortress – you fill in the blank – has now sent word to town officials that he will no longer pay his property taxes. His claim? That the town allegedly wouldn't provide emergency services to his home during a "music festival" held there late last month. Town Administrator Steve Halleran said the potential threat posed by the Browns and their supporters – some of whom are armed – makes it unlikely for town fire and police to respond to calls for service at the Browns' home.
"The town has violated the contract," Brown said. "They offered no protection to the land or us. They'll pay. They'll pay."
The Valley News reported that the Browns had yet to pay a $7,055 tax bill due July 1. Their property is assessed at more than $572,000.
It's not the first time the Browns haven't paid their local taxes. From 1999 to 2003, they refused to pay the school portion of their tax bill, until tax liens threatened the deeds to their home and business.
The Browns had earlier sent an envelope to town officials, but if they thought it contained a check they were mistaken.
Inside, there was a handwritten letter and a set of documents purporting to establish the Browns as "stewards" of the residential property, owned by the "Lord."
The letter reads: "Nay! Nay! The land … at 401 Center of Town Road, Plainfield, New Hampshire, and all that is in and upon it, including the Lords bodies, are in the kingdom of heaven, belonging to the Lord, have been claimed by him, and thus can be claimed by no man, nor can any man have beneficial interest in it. Stand down and away from the Lords land and the bodies of the Lord. So it is written. So it is done."
It all seems like a fancy way of giving the author an excuse for being a freeloader.
Return to sender?
How'd you like to get this reply from a state rep after sending him an e-mail about an issue that's important to you?
It was received by Eric Engelhart of Enfield, who had e-blasted his concerns about the state's recent settlement with subprime mortgage lender Ameriquest. The sender was one of the recipients, Rep. Dudley Dumaine of Auburn:
"I have absolutely no clue what the (expletive) your ranting and raving e-mail is all about," Dumaine replied to Engelhart, as reported by WMUR-TV. "I have never even heard about this Ameriquest, whoever they or whatever the (expletive) it is … and I don't particularly give a rat's (expletive)," the message continued.
Engelhart, for some reason offended by the Republican lawmaker's reply, was moved to ask the legislative ethics committee to look into the matter.
Too bad he didn't seek to get Dumaine a subscription to a newspaper, or something like that, to help him get up to speed on an issue — and a company — that's garnered more than a little attention in recent years.
F&J TOTEBOARD
Barack Obama: The Democratic presidential hopeful snags the endorsement of Paul Hodes, but fails to recognize the New Hampshire congressman's voice during a teleconference with reporters.
Michael Bloomberg: The New York mayor and the Washington press corps' fantasy presidential candidate, says he's got no interest in running: "I've got a job, and it's a great job, and I'm going to finish this job. And my next career is going to be in philanthropy," he tells ABC's "Good Morning America."
John Lynch: Once again, the governor tells supporters and voters about legislative accomplishments during the most recent session, and once again he overlooks mentioning approval of civil unions.
Frank Guinta: The Manchester mayor, who surprised even himself with his 2005 victory, hits a donation dry well in the quarter ended June 30.
It's been making the rounds…
• John McCain, traveling from town to town around New Hampshire with no money, better hope he's not stopped for violating vagrancy laws.
• Anybody surprised about the timing of John Stephen's decision to quit his HHS post simply hasn't been paying attention.
• People who want Stephen to run for governor and not the 1st C.D. seat don't exactly have his best interests at heart.
• Does it only seem like it, or is the State Employees Association falling apart at the seams?
• If the Manchester Republicans wanted to raise some real money with their shoot-'em-up fund-raiser in Pelham, they should have invited Vice President Cheney to give them some pointers.