Flotsam & Jetsam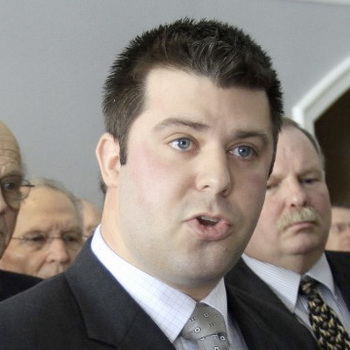 Disorder in the BettencourtNo doubt it was a Memorial Day weekend to remember for D. J. Bettencourt.Bettencourt — the Salem Republican who resigned in disgrace as House majority leader on Sunday, Memorial Day Eve, after published reports that he faked an internship in order to graduate from the UNH School of Law – became yet the latest example of a politician thinking he can do or say anything without a) getting caught, and b) facing any ramifications.To add insult to injury, the 28-year-old Bettencourt emerged as the stereotypical member of the Millennial generation, someone who a) expects to get things without working for them and b) expecting no ramifications.In other words, another politician displaying really mature behavior.But what else can you say about unvetted majority leaders? It's an old New Hampshire tradition.Submitted for your memory, we give you one Vincent Palumbo – known to all as Vinnie — a rising star in the New Hampshire Republican Party. Elected to the House at the age of 26, by 31 he became the House majority leader. By 33, he was forced to resign.It turns out he had never earned a claimed master's degree from Columbia University, had four overdue bank loans and misrepresented the sources of his income. A few months later. Palumbo pleaded guilty to bank fraud and failure to file income tax returns for three years. He was sentenced to more than a year in prison.
All of which puts into perspective Palumbo's comment made during the days when the Legislature was looking into setting up an ethics panel, to which Palumbo said, "We're all gentlemen here, and gentlemen keep their own scorecards."That quote would turn out to be one of Palumbo's two lasting contributions to New Hampshire political history.The other was a beefed-up legislative ethics code and enforcement mechanism, which became a slam-dunk for proponents after Palumbo resigned in disgrace.The footnote to the whole Palumbo story is that in 2007 Palumbo was sentenced to 30 months in federal prison after failing to pay taxes on about $2 million in income from 1998 to 2004.So for Bettencourt, the bar for disgraceful behavior by a House majority leader was set pretty high (or low) by Vinnie Palumbo way back in the days D.J. was little David J. still mastering the art of walking and talking.Ethical guidelinesIn many respects, the only one emerging from Bettencourtgate (there, we said it) with anything approaching dignity is Brandon Giuda, the Republican rep from Chichester who essentially turned former House Majority Leader D.J. Bettencourt in to the authorities. Or at least the media.But to say that Giuda is a hero in the whole affair is a little bit of an exaggeration.Sure, Giuda, an attorney, blew the whistle on Bettencourt for faking an 11-week internship with Giuda's law firm when in actuality he worked for a couple of hours. And sure, Giuda justifiably blew his top when he saw Bettencourt's Facebook posting that claimed he had "graduated" from the UNH School of Law, despite not even coming near fulfilling his internship agreement. And sure, Giuda quickly decided to end Bettencourt's charade, saying he would "never cover for a dishonest person," as he told the Concord Monitor.But a question remains: Why did Attorney Giuda think it would be OK to enter into the internship agreement with the man who was essentially his boss — the guy who ensures what committee assignments he gets, what kind of treatment is given to the legislation he's sponsoring or favoring, and even potentially the kind of funding he gets for a campaign?Consider that if Bettencourt actually did complete the internship on the up and up, Giuda would have been asked to evaluate his majority leader's work. What kind of objectivity would he have in that case, whether he did a good job or not? And what would have happened if Bettencourt — whose work ethic, along with his ethics, comes into question in the whole affair — did a crappy job in the end? Would he have been able to write that down in his evaluation?Because Bettencourt came clean on the whole thing — or at least we can assume he has — we won't have to find out the answers to those questions. But that doesn't mean Attorney Giuda shouldn't have asked them himself before agreeing to the deal with Bettencourt.Snitch Corner:
Recent items from the pen of Mr. Snitch, the mysterious and all-knowing contributor to TheLobbyNH.com
With the campaign season about to bloom along with I'll Have Another, the news orgs. are lining up their debate schedules.It's the usual deal with The House That Steve Forbes Built and William Loeb Drive. There's a new one with Budding Bloomberg Bill Binnie's TV station and a consortium of dailies across the state. And New England College is setting up its own gig, with newspapers and radio.Missing from the musical debate chairs is one notable: NH Public Radio.Turns out they've been hemming, hawing, fiddlin' and diddlin' through the whole thing, better-dealing potential debate partners and leavin' 'em high and dry.Funny, tho: The one left high and dry in the whole thing is NHPR. Unless, of course, someone takes pity on 'em.Snitch's Words to the WiseAlways forgive your enemies — nothing annoys them more.It's been making the rounds … • An omen from Organization Day, 2010: D.J. Bettencourt was the first majority leader in at least recent memory to win his position by being elected by his colleagues. • When the Union Leader basically calls for the resignation of a Republican speaker – or at least question his all-but-announced decision to run for another term as speaker – that's Handwriting on the Wall time, don't you think? • What are the odds that the UNH School of Law will readmit Bettencourt to complete his law studies? • Memorial Day wasn't a good day for all those former House backbenchers who barged into leadership in 2011, was it? • Why does it feel like there's something missing when Bill O'Brien issues a plea for sympathy and unity?Tote boardNancy Stiles: The first-term Republican senator from Hampton bucks the trend of incumbents bowing out for another term and announces that she'll seek re-election to the Senate.Russell Prescott: Ditto the Kingston Republican, who announces he's running for a fourth Senate term.Peter Silva: The Nashua rep and House majority whip emerges as the new majority leader in the wake of D.J. Bettencourt's resignation as majority leader.Greg Moore: The House Speaker's chief of staff remains at the center of a storm over politically tinged mileage reimbursements issued to former Majority Office staffer.John Hikel: After being called out for calling a former vice chair of the state Republican Party a "pole dancer" and "stripper," the Goffstown Republican rep announces his bid for the District 20 Senate seat.Bob Smith: The former Granite State U.S. senator and current citizen of the state of Florida announces his support for Ovide Lamontagne in the GOP gubernatorial campaign over Kevin Smith, a former staffer for then-Senator Bob.