Flotsam & Jetsam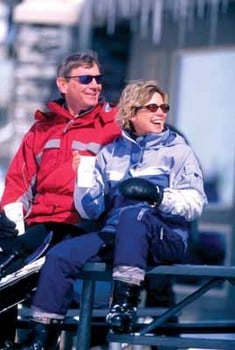 Poll rage?
Christopher Doyle — a duly elected Republican state rep, by the way – earned his way into the Hall of Infamy earlier this month after he realized he was losing his bid for re-election.
As the numbers came in, and the outcome became obvious, the 26-year-old Doyle allegedly brought road rage into the polling place and punched – that's right, punched – Gail Webster, a 61-year-old supervisor of the checklist, in the chest, knocking her to the ground and forcing her to be taken to the hospital for treatment.
The good news for Webster is that Doyle is likely too young to have studied the curriculum at the Mike Tyson School of Sore Loserdom, so at least her ears are intact.
There's no truth to the rumor, by the way, that House Clerk Karen Wadsworth has begun taking martial arts classes.
Social Security insecurity
You could argue that Congressman Jeb Bradley, in the style of a master politician, earned re-election to his second term last year mostly by trying his best to be all things to all people. In other words, just keep the voters guessing.
In the last couple of months, Bradley has taken that strategy a big step further with his "What I Meant to Say" approach to Social Security.
You may recall that when he first ran for Congress in 2002, Bradley insisted that he would not support "privatization of Social Security. That is crystal clear."
As clear as Baccarat, if you ask us.
But last month, when President Bush's Social Security-selling road trip stopped in New Hampshire, Bradley was forced into a corner – should he oppose the president and his plan for private accounts or stick by his guns?
To the surprise of pretty much no one, Bradley backed off from his strict opposition as soon as the president snubbed him during his visit.
Just a misunderstanding, the congressman insisted – he's got no problems with PERSONAL accounts, it's full-blown privatization he's against. Privatization, in Bradley-speak, apparently means turning over administration of all the trillions to Merrill Lynch or Charles Schwab, or perhaps Wal-Mart.
By then, it was time to take a breath. So Bradley was incommunicado on the issue until early March, when he told constituents – many of whom told him they were against those personal accounts he most recently said he favored – to forget all those other things he had said. What he really meant was that it was "premature to have a position" on any specific Social Security plan.
But, he added, he IS open to all ideas — and that's a position that's become pretty obvious by now.
Surprise fighters
If he hasn't already done so, it's likely that Governor Lynch will shortly announce that he's told ski magnates Tim and Diane Mueller – owners of Okemo Mountain in Vermont and Crested Butte in Colorado and operators of Mt. Sunapee — that he's decided against expanding the Muellers' Sunapee lease.
Since the governor said during his campaign that he opposed the expanded lease – which would pave the way for the Muellers to go ahead with their controversial plan to build 250 or so condo units on the back side of Mt. Sunapee in Goshen – the news probably came as no surprise.
What did come as a surprise, however, was the Muellers' decision to leak to the Claremont Eagle-Times that they would be meeting with the governor in early March, before the governor publicly announced he would be meeting with them.
It might sound like a minor matter, but in the world of politics, setting up an unexpected field of moguls isn't a very good idea. And, put simply, it didn't help the Muellers' cause.
It's been making the rounds…
Since they make such a big deal on their editorial pages about the importance of the New Hampshire primary, you'd think at least one of the state's newspapers would have arranged for coverage of the DNC committee mulling the upcoming primary schedule.
---

If New Hampshire wants Killington, Vt., so much, maybe Theo Epstein could help work out a three-way trade: Killington to New Hampshire, Newington to Maine and Bar Harbor to Vermont.
---
Florida Gov. Jeb Bush is trying so hard to stay out of controversy that you'd swear he was running for vice president.
---
The bad news: Sen. Bill Frist of Tennessee is seriously considering running for president. The good news: That means Sen. Lamar Alexander of Tennessee isn't.
---
Indiana Sen. Evan Bayh, apparently successful in wiping out the memory of his father's experience as a presidential candidate in New Hampshire, has been busy sending out feelers to potential Granite State supporters via his All America PAC.
---
There's no truth to the rumor that Judge Francis Frasier considered tacking on another 150 hours of community service to the sentence of Nashua Mayor Bernie Streeter for aggravated arrogance.
---
The pressure's increasing on Agriculture Commissioner Steve Taylor to take on Executive Councilor Ray Burton in '06.
---
It may have surprised a few people to find out that one of the biggest advocates for leasing additional Mt. Sunapee acreage to the operators of the ski area has been former DRED Commissioner George Bald, who was leaning on friends in Governor Lynch's office to get the guv to back down from his opposition.
---
Is it a good thing or a bad thing when Chuck McGee, immediately after his sentencing on election fraud charges, announces that he'll be available as a GOP campaign consultant as soon as he gets out of prison?
---
It looks like this is the last year for Public Service of New Hampshire sponsorship of Craig Benson's Start-Up NH business plan competition.
---
They said it…
"It was a political junkie's heaven." — Terry Shumaker, executive director of NEA-NH, gives his take on his experience as a member of a national Democratic Party commission on the primary schedule. "Political junkie's heaven," by the way, would be hell for the rest of us.
"It's not like forgetting to register your car." — Buddy Phaneuf, president of the Cremation Society of New Hampshire, eliminates forgetfulness as one excuse for the failure of a crematorium owner to register for approval to operate from the state.
"He couldn't get through to the guy. Ironically, the line was busy." – Jeff Newman, chair of the Concord City Republican Committee, describes how former Republican executive director – and future federal inmate — Chuck McGee scurried to put a stop to a phone-jamming scheme after getting the word to kill the plan.
"So we have a wonderful issue to beat up our opponents on." – Rep. Neal Kurk, R-Weare, explaining why he vigorously opposed a proposed constitutional amendment that would ban the state from every instituting an income tax.