Flotsam & Jetsam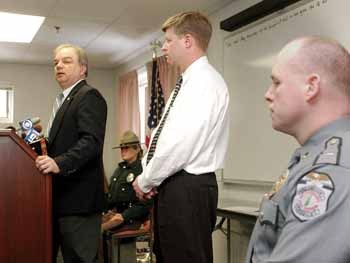 Just visiting
His name is on everybody's short list of potential GOP presidential candidates in 2008, so it won't take anyone by surprise when former New York Mayor Rudy Giuliani shows up in New Hampshire a couple or 50 times over the next few years.
And if he wanted to, Giuliani could actually show up in New Hampshire a few more times than his fellow potential candidates, now that his company, Giuliani Partners, has been hired to conduct background checks on the owners and customers of 11 simulcast sites – including Lakes Region Greyhound Park in Belmont — that take bets on races aired by Magna Entertainment Corp.
The investigations are expected to start this month and take 30 days. So if you happen to run across the hands-on Rudy in the next month or so, remember – he's conducting a background check.
Pick your poison
It seems like barely a decade ago that The Union Leader was a Buchananite, Bush-bashing bastion of the Old Right. In fact, it was. But today its editorial voice is a full-fledged tenor in the Neocon Choir.
Nowadays it's rare when the UL aims even a tiny peep of protest at an administration that's setting all kinds of spending and deficit records. And the occasional mild rebuke is always buried in the middle of an editorial that begins and ends with praises to the administration.
This bit from a Feb. 4 editorial praising the president's State of the Union address is typical:
"We were pleased to hear the President's tough talk on federal spending, but less enthused to hear his proposals for adding to that spending." Oh, dear! Do be careful. Don't hit the president too hard now.
If the late publisher William Loeb is reading these editorials from his
vantage point in eternity, it must be hell for him.
A fierce farewell
The New Hampshire press took one last parting shot at Dick Bosa, the former Berlin mayor and legal system gadfly who died Feb. 23 after a long battle with cancer.
Bosa – whose name appeared at the bottom of a number of letters in New Hampshire Business Review – was not afraid to share his opinions about topics ranging from a legal system he viewed as corrupt to offshoring American manufacturing jobs, with just about everything else in-between. In his attempts to share those opinions, however, he stepped on a few – actually, a lot more than a few — toes belonging to people in the New Hampshire press.
Put simply, he ticked off a large portion of the state's media folks.
Still, it was slightly jarring when the lead paragraph in Bosa's obituary – distributed by the Associated Press and which appeared unchanged in almost all of the state's daily newspapers – read:
"Former Mayor Richard Bosa, a candidate for president, governor and Congress, nemesis of the judicial system and former mental hospital patient, has died at Hospice House in Concord, a Berlin funeral home said Wednesday."
Bosa did spend a short time in the State Hospital a number of years ago, and the AP obit didn't want anyone to forget. But talk about holding a grudge.
Shock and awe
Rockingham County Attorney Jim Reams has been in the business quite a while – in fact, he got his start in the county attorney's office some 20 years ago.
But, judging from his reaction to the discovery of an unlicensed crematorium operating in Seabrook, you'd think he just got off the bus the day before yesterday.
It was at the Bayview Crematorium that last month Reams and other law enforcement officials came upon an improperly stored body and medical waste in a trash bin, both not exactly living up to existing codes.
But while such a discovery could leave the discoverer feeling a little green, the county attorney sounded a little green when talking to reporters.
"I find it baffling that this crematorium was open from 1999 'til today and unlicensed, and nobody was aware of it or paying attention to it. It's inexplicable to me, and a little shocking, particularly in light of what we found there."
Getting warmer
The times really are a changin' when The Union Leader's "40 Under Forty" list includes Robert Aldrich, the openly gay chief of police in South Hampton and vice president of the Gay Officers Action League — GOAL — New England. Of course, there was no direct reference to Aldrich's sexuality in the article about him. But we all know these things take time.
It's been making the rounds…
Say hello to Manchester Mayor Bob Baines, your next state education commissioner.
---
The count is now up to 15 states – including Texas – that have moved or will be moving up to a week behind New Hampshire in the primary process.
---
Why can't politicians adopt the physician's motto: "First do no harm"?
---
Next time you hear Transportation Commissioner Carol Murray being interviewed, try counting the number of times she begins her answers with the phrase, "Quite frankly."
---
Jeb Bradley's head must have been spinning like Linda Blair's in "The Exorcist" while trying to find the words to squirm his way out of opposition to private Social Security accounts.
---
No, Stan Arnold was not on steroids when he came up with state revenue projections – the numbers should be tested, however.
---
Listening to State Dem chief Kathy Sullivan praise Governor Lynch's budget plan, you'd think it actually added up and didn't look like the fraternal twin of a Craig Benson-authored budget.
---
The sailing might not be as clear as supporters had hoped for the highly touted SB 110 compromise.
---
They said it…
"It strikes me as implausible." — Former House Speaker Newt Gingrich on speculation that he may run for president. Something folks in the red states and blue states may actually agree on.
"The data coming out of that department has always been suspect. They have a track record of inaccuracies." – State Sen. Lou D'Allesandro, after learning about a $1.2 million miscalculation in the way the Department of Education distributed school aid. Now he tells us.
"I think she's got two chances — slim and none." – Executive Councilor Peter Spaulding on the possibility that Pam Smart, convicted of convincing her teenage lover and his friends to kill her husband, will receive the pardon she's seeking from the governor and council.
"They hate me in New Hampshire." – Pam Smart, sharp as ever, as quoted in a Portsmouth Herald interview.
"How can you make a case for a four-year term for the previous occupant?" – A skeptical Keene Democratic Rep. Chuck Weed to the sponsor of a bill that would expand the term of governor from two years to four.
"There's no reason a working American should have to pay for that type of drug if, for example, Bill Gates needs it when he retires." – U.S. Sen. Judd Gregg gets his dander up over a call for Medicare to pay for anti-impotence drugs like Viagra and Cialis.