Flotsam & Jetsam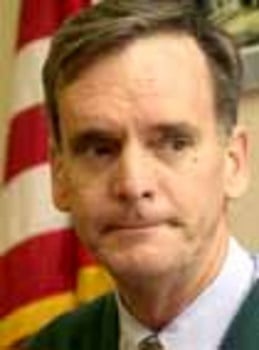 Parsing the sentence
The only thing missing were the violins playing softly in the background when Allen Raymond, the former Republican consultant, was sentenced to five months in jail for his role in jamming Democratic telephone during New Hampshire's 2002 election.
The 37-year-old Raymond, who pleaded guilty last June, also was fined $15,600 — the amount his company received from New Hampshire Republicans for his "telemarketing services."
Following the usual script, Raymond was sure to tell U.S. District Court Judge Joseph DiClerico that he was a bad boy who did "a bad thing" that "was outside my character." He added: "I take full responsibility for my actions."
The implication, of course, was that he was ready to take his medicine. A real man.
But that wasn't the full story, since John Durkin, Raymond´s lawyer, tried to convince the judge that Raymond was something of a victim himself, in a plot that he didn't devise but in which he was merely a pawn.
Besides, said Durkin, his client had suffered enough: "Whatever the court does today, 99 percent of the damage has already been done."
The judge, to his credit, didn't think so, and in fact caused Durkin and his client to grow a little pale when he announced the five-month sentence in federal prison.
The moral: Don't be a jammer if you're afraid of the slammer.
Primary primacy
The New Hampshire primary is like Mark Twain, said Kathy Sullivan, who chairs the Democratic Party in the Granite State. Reports of its demise are premature.
"Howard Dean is fully committed to the New Hampshire presidential primary," said Sullivan, speaking of the former Vermont governor, unsuccessful presidential contender and newly elected chairman of the Democratic National Committee.
The Queen City Democrat took exception to a Flotsam item that mentioned "the blood is in the water" for some national Democrats looking to dethrone New Hampshire from its "first-in-the nation" pre-eminence.
"Every four years, we have to go through a process of explaining to our national committee why the New Hampshire primary and the grassroots action are important to the nominating process," said Sullivan, "and every four years we are successful in doing so. I don't see why this cycle will be any different."
She also dismissed claims by Republicans that Dean as chairman only reinforces the image of a party too liberal for mainstream America.
"I don't think Democrats should ever take political advice from Republicans," Sullivan said. "The job of the party chair is to do three things — raise money, organize the party structure and energize the base. And (Dean) has proven he can do all three of those very effectively."
Mark the date
Under the headline, "Spitzer blasts Bush biz policy in D.C. speech," the New York Post reported that New York Attorney General – and Democratic gubernatorial candidate — Eliot Spitzer "tore into President Bush for failing to rein in corporate accounting shenanigans." The newspaper added the intriguing clause, "but the New York gov hopeful insisted the slap wasn't intended to promote a 2008 White House bid of his own."
There is nothing so powerful as disinformation
You couldn't blame the folks at LRGHealthcare for feeling a little under the weather earlier this month. The cause? It wasn't the flu bug or any other such medical concern. No, it was an article in The Union Leader.
It turns out that an article by Paula Tracy set off a Rube Goldberg-like chain reaction that forced the parent company of Lakes Regional General and Franklin Memorial hospitals to make their way through the state's media in order to get their side of the story out.
Headlined "Hospital deficits persist,"
Tracy's article proclaimed that the Laconia and Franklin hospitals "lost $5.7 million in 2004, despite instituting a number of cost-saving measures."
But, hospital officials are quick to point out, while they have suffered some significant operating losses, non-operating income of $2.35 million brought the total to $3.42 million.
Not the most inspiring numbers, but certainly not as bad as the UL figure, which was more than 41 percent higher than the actual result. Besides, LRGHealthcare officials were more than eager to point out, they've actually been running in the black for the last three quarters – a fact ignored in the UL story.
To make matters worse, the Laconia Daily Sun reported that while Tracy wrote, "at the annual meeting of LRGHealthcare, … chief financial officer Henry Lipman said the year's financial outcome was disappointing, given the belief that cost-saving measures were to reduce the losses by more than $1 million," she apparently did not attend the meeting, and, Sun reporter Ron Tunning wrote, "it wasn't clear where she or how she divined that quote."
The Sun, in fact, was the newspaper that outed the UL article's flaws, and it wasn't the first time that it's done so.
About two years ago, the newspaper featured an article pointing out that although a UL article – also written by Paula Tracy — quoted the American Motorcycle Association as estimating the crowd at Bike Week, she never actually spoke with anyone at the AMA.
Pill pushers
The prescription drug benefit addition to Medicare that President Bush persuaded Congress to pass last year will cost (ooops!) twice as much as the administration had said, probably because Al Gore "keeps usin' that fuzzy math." (Where is Al Gore, anyway?)
So some fiscal conservatives who actually worry about (of all things) fiscal conservatism are looking for ways to partially tame the beast. New Hampshire's own Sen. Judd Gregg suggested on ABC's "This Week" that coverage of some "lifestyle drugs" could be eliminated.
Lifestyle drugs? Well, yes, said the senator, things like Viagra and Cialis and others drugs to cure sexual dysfunction in aging males. Host George Stephanopoulos, clever lad, took that as his cue to play a little clip of Bush assuring "seniors" that any effort by Congress to "limit the choices" or eliminate any of the benefits in the prescription drug plan will be met by his veto.
It's just President Bush doing his best to make the world safe for Viagra.
Let's make a deal?
How come the press didn't pick up on Derry Schools Superintendent John Moody's remarks on Arnie Arnesen's radio program recounting Governor Lynch's response to criticism of his education-funding plan?
According to Moody, after listening to the superintendent's concerns, Lynch told him not to worry and let him know that nothing in the plan is cast in stone yet.
Seeing the light
If New Hampshire Democrats needed any proof that Colin Van Ostern is back at state party headquarters, these dueling quotes by new state GOP chair Warren Henderson — sent via e-mail by Dems — would do the trick.
On Dec. 2, 2004, Henderson, merely a GOP activist at the time, told The Union Leader: "Kathy Sullivan will exploit any situation, rightly or wrongly, for partisan benefit. It's not the job of the Republican Party to assist those efforts."
On Feb. 8, 2005, when one of the key players in the phone-jamming plot was sentenced, Henderson, now party chairman, said in a written statement: "Mr. Raymond's role in the 'phone jamming' during the 2002 election was intolerable and offensive to all citizens of New Hampshire, and deserving of serious punishment. As a former state legislator and former member of the New Hampshire Ballot Law Commission, I am personally offended at this illegal and unethical assault on the integrity of our democratic process." By the way, he didn't hesitate to add that the state GOP would continue to work with federal investigators.
It's been making the rounds…
Former New Hampshire GOP Executive Director Chuck McGee must have taken a long, nervous gulp when he heard about the five months in prison fellow phone jammer Allen Raymond received in the 2002 Democratic phone-jamming plot.
---
Why is it mostly Republicans who keep saying that Hillary "Common Ground" Clinton would be a remarkably formidable presidential candidate?
---
If Craig Benson had introduced the exact same targeted aid education-funding scheme as Governor Lynch (not a stretch by any means), would Peter Burling and Sylvia Larsen have stepped right up to endorse it?
---
What a surprise to see Frank Sapareto, the former state senator who was defeated in last year's GOP primary, trying to get a piece of center stage in the school-funding debate.
---
Amazing, isn't it, that the very same Howard Dean who all those establishment New Hamshire Dems were wringing their hands over as a presidential candidate a little more than a year ago is being hailed as a hero as Dem chairman?
---
They said it…
"In the Midwest, when they saw John Kerry half-naked in Neoprene, windsurfing off Nantucket, that was it. That's why John Kerry failed." – Former Democratic congressional candidate Paul Hodes.
"Governor Lynch was more low-key and less flamboyant." – Killington, Vt., Town Manager Dave Lewis, after meeting with Governor Lynch, points out a difference he noticed between him and his predecessor, Craig Benson.
"I am not a flip-flopper on anything." — Former Democratic presidential candidate John Kerry, who certainly had us fooled.
"State officials have resorted to what I would refer to as a variety of loopholes and in some cases accounting gimmicks that shift the cost that they claim to pay to the taxpayers of other states." — Health and Human Services Secretary Mike Leavitt sounds yet another death knell for Mediscam money.