Five NH businesses file for bankruptcy in April
Total business-related bankruptcies increase sharply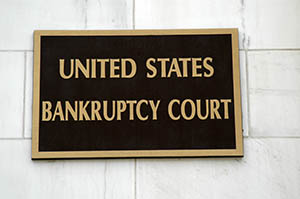 There was drop in the number of New Hampshire individuals filing for bankruptcy in April, but there was a big increase in bankruptcies due to business-related debt.
After a sharp uptick in March, total bankruptcies fell again in April. Some 188 families and businesses filed for protection, 29 fewer than last month and 11 fewer than April of 2015.
That's the fewest number of filings in any April since 1989, except for except for a sharp drop in 2006 following the change in bankruptcy law that made it tougher for individuals to file.
There were also record-low levels in January and February, but because of March's uptick, there are almost as many total filings as last year to date. However, in the last three years, the number of bankruptcies has fallen by roughly 20 percent each year.
Some 23 of the April filings were due to business-related debt. Eighteen were filed as individuals, compared to three in the previous month, and five were filed as businesses,, compared two in the previous two months. None of the five businesses filed for Chapter 7 liquidation, so these businesses might still continue.
The businesses filing for protection in April were:
• ADM Vending Inc., fdba ADM Vending & Coffee, Merrimack, filed April 1, Chapter 11. Assets: $1,829,016. Liabilities: $566,197.
• 158 Broad Street LLC, Manchester, filed April 12, Chapter 11. Assets: $240,000. Liabilities: $132,445.
• Slevira Properties Inc., Manchester, filed April 12, Chapter 11 (filing related to above). Assets: $200,000. Liabilities: $119,342.
• TRF Farm LLC, Farmington, filed April 25, Chapter 11. Assets and Liabilities: Less than $50,000.
• Hanish LLC, Fairfield Inn & Suites, Hooksett, filed April 26, Chapter 11. Assets and liabilities: $1 million to $10 million.