First N.H. baby of 2004 from Nashua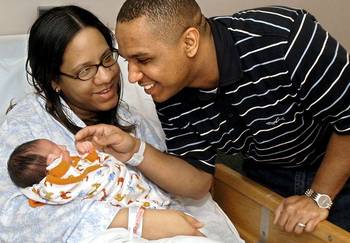 NASHUA – Erien Jasiel Cintron-Arizmendi has plenty of initiative.
The little fellow arrived into this world 22 days early, surprising his parents but earning the neat distinction as the first baby born in New Hampshire this year.
"It's a new start," said his father Ernie Cintron. "It's the beginning of a lot of good things. We're no longer a family of two; we're a family of three."
Erien became a Granite Stater at 2:31 a.m. Thursday. He's a healthy, blue-eyed, 4-pound, 4-ounce, 18-inch package of wonderment and delight.
Despite the premature birth, Cintron and mom, Kizzy Arizmendi, had a clear advantage: They live on Marshall Street, just baby steps from Southern New Hampshire Medical Center.
Arizmendi had to call her mother, Diana, and tell her to schedule an earlier flight from Puerto Rico; the new grandmother was now set to arrive late Thursday instead of later this month. But that was the only complication.
Birthing went rather quickly: three hours in all, two for the head to sneak through and another hour for the body.
Arizmendi made an equally prompt act in naming her son. She rearranged the letters of Ernie's name to create the little one's first name, Erien. And for his middle name Jasiel, she combined the names of her brothers Juan and Ansel.
"We prayed every day for him to be healthy. He is very healthy," Cintron said, crediting birthing classes with helping him and his wife handle the delivery. They also had tremendous praise for Dr. Nancy Laport.
Arizmendi fortuitously held a baby shower last weekend, so Erien can benefit when he goes home this Saturday. She worked as a substitute English and Spanish teacher, but will now devote all her time to her new favorite pupil. Cintron works at Triangle Credit Union.
The couple, both 26, married last year. They made no plans to start a family. "It just happened," Arizmendi said. "We're thinking about having one more, but we'll have to wait . . . maybe two years. We'll see how it goes for him."
Cintron already envisions Erien playing major league baseball, and jokes that the boy may throw left-handed like his cousin. He took photos of his new son, and proudly e-mailed them to his parents and relatives in Puerto Rico.
Erien was the first baby born in the state by 14 minutes. Exeter Hospital had a girl arrive at 2:45 a.m. Several New Hampshire hospitals missed out on the unofficial first baby contest by hours, and some hadn't even had a birth late into the day.
St. Joseph Hospital in Nashua delivered its first baby almost 12 hours after Erien arrived down the street. Olivia Grace Schade – at 7 pounds, 15 ounces – was born at 2:17 p.m. to Aimee and H. A. Schade of Amherst.
Albert McKeon can be reached at 594-5832 or mckeona@telegraph-nh.com.