Fire guts city tire shop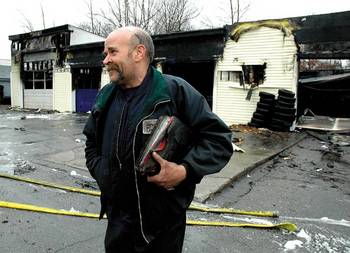 NASHUA – When Roger Doucette got the call, he hoped he had heard it wrong.
A volunteer for the Salvation Army for 10 years, Doucette was told to respond to Steve King Tire Center in downtown Nashua, where a three-alarm fire broke out early Friday morning and destroyed the building. Doucette has been a mechanic at the 321 Main St. business for five years.
"I came here and I just had a sense of disbelief. There were flames going through the roof," he said, donning his Salvation Army jacket.
Doucette did what he could to comfort his co-workers Friday morning, as they dug through the remains of the downtown business.
The fire destroyed most of the building, but firefighters were able to save an office on the right side of the building, according to Deputy Fire Chief John Allison. The blaze is not considered suspicious, but fire officials were not able to determine what caused it.
Nobody was injured in the firefighting effort, which involved more than 45 members of the department working for about an hour and a half to control the blaze, which was fueled by tires, oils and other highly flammable materials.
"It was a very good operation. We basically stopped the fire where it was when we got there," Allison said.
Business owner Steve King, along with his wife, Pam, and several of his mechanics and family members went to the scene as quickly as possible.
Late Friday morning, Steve King was trying to put the loss into numbers.
"I don't know, but it's a lot. This is really a nightmare," said King, who opened his business in 1982. The business is insured, according to Pam King.
Herb Bennett, who started working at the shop in September, estimated he lost about
$100,000 worth of tools.
Bennett said the handles on his toolbox were melted. He shuffled through the charred remains of his certificates and licenses, hoping to salvage something.
But most of it, he admitted, would have to be replaced.
"They're all gone. This is what's left of it," he said.
Jerry Jodoin, a mechanic for eight years at the shop, said he lost about $65,000 worth of tools, none of which was insured.
Fire officials first learned of the blaze at 6:16 a.m. when an employee at a nearby Dunkin Donuts reported seeing smoke and flames coming from the building, Allison said.
Because the caller had reported seeing flames, Allison said the department initially dispatched three engines, and both a ladder and tower truck to the scene.
Allison said he and the rest of the firefighters found the building completely engulfed in flames when they arrived, with heavy fire shooting out of the roof and all sides of the
structure.
"It was really going good," he said.
At that point, a second alarm was immediately sounded, he said, which brought an additional engine and ladder truck to the scene.
Police closed down Main Street from Lake Street to Allds Street as firefighters hooked up hoses to four hydrants in the area and began dumping massive amounts of water on the fire.
A third alarm was activated minutes later, bringing all apparatus and on-duty fire personnel to the scene, Allison said.
Fire crews encountered various obstacles in the firefighting effort, including a limited amount of space to maneuver through at the rear of the building, as well as tires and three vehicles that were blazing inside the building, he said. Firefighters eventually used foam to extinguish the burning tires and vehicles, he said.
In the effort to save the office, firefighters had to watch for fire entering an area between the ceiling and roof of the structure, he said.
"It was a matter of taking our time and being very cautious," Allison said.
"We did enough to protect his records," he said.
The fire was eventually called under control at 7:43 a.m. Allison described the damage to the building as a "total loss."
A pickup truck, car and Bobcat construction loader that were inside the building were destroyed, and several cars that were parked near the building sustained damage from falling debris, he said.
Fire Inspector/Investigator Rick Wood arrived at the scene early Friday morning and began trying to piece together the puzzle of how it started. His work was delicate as well, with the burned-out building's collapsed roof and unstable walls adding to the difficulty of the investigation.
Later Friday, Wood said the fire had started in the rear middle portion of the garage, but that because of the condition of the fire scene, he could not determine a cause.
"We may never know what caused it," said Wood, adding that the fire was not considered suspicious.
The owner of the building, Pete Lyons, said the building was about 80 years old, built in the 1920s. It had gone through several renovations over the years, but other than a few roof leaks, there hadn't been any problems, Lyons said.
Steve King said the most recent renovations were completed just last Friday, including a new phone system and improvements to the offices.
He got a call about the fire early Friday morning and said he anticipated only minor damage. But his heart sank when he arrived.
When asked what he planned on doing the next day, Bennett, as with everyone else employed at the downtown staple, said he didn't have much of a choice.
"I'm going to pick myself up, dust myself off and keep going. What else am I going to do?" he said.
King was more uncertain about the future, saying he was unsure of what his next step was.
"I've never been in this situation before," he said.
But he did assure his employees that he was going to do everything in his power to keep the group of close-knit mechanics together.
"Oh yeah, we're definitely rebuilding. I know my employees need their jobs," he said.