Financing in place for downtown Concord renovation
Sugar River Bank leads Vegas Block restoration funding effort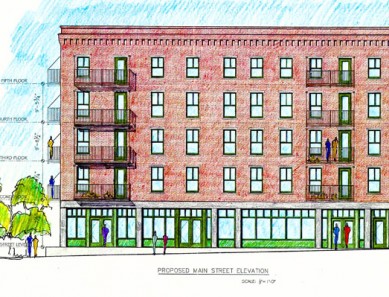 A financing package has been put together by Sugar River Savings Bank, Capital Regional Development Council, Merrimack County Savings Bank and the city of Concord, paving the way to begin the long-awaited restoration of the Vegas Block in downtown Concord.
The building, which will be known as Remi's Block, will feature three first-floor commercial units and 20 residential units upstairs. Cobb Hill Construction of Concord is overseeing construction.
Owner of the property is local businessman Remi Hinxhia, a local businessman.
"We are delighted and proud that this day has finally come," said Hinxhia. "We are dedicated to making our part of downtown Concord better for all citizens now and for generations to come. It was felt that the restoration of this historical building from its dilapidated state would add to the overall renovation of Concord's downtown re-development. Now that the construction of Remi's Block is a reality, I am grateful for the work completed by all those who are participating in this project and look forward to its completion."
In putting together the financing package, Sugar River Bank took the lead, with CRDC, the City of Concord Revolving Loan Fund Program and Merrimack County Savings Bank combining to provide for the restoration costs. The city also provided $300,000 in special property tax incentives.
Such a financing structure is an example of economic development, which often requires a blending of several financing sources to make a project feasible, since restoration of older buildings often requires the collective efforts of a number of financing participants, said Joe Conway, vice president of commercial lending at Sugar River.
"We recognize the importance of renovating this historic building and the benefits it will provide to the city's long-term strategic plan and vision for Main Street," said Conway. He said the "teamwork demonstrated by our colleagues is the appropriate process to achieve the shared goal of making a challenging project possible."
Construction is anticipated to be completed in November 2016.