Filling the vacuum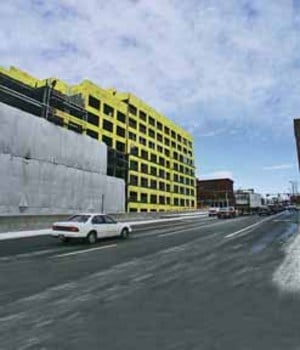 Patience appears to be paying off for the city of Manchester, as the construction of a $40 million residential/retail development continues on what had long been its most conspicuous vacant lot.
"The marketing of it, finding the right fit for downtown is what's so very important," said Destination Manchester Coordinator Bill Jabjiniak about the 1.6-acre site at the corner of Bridge and Elm streets in the heart of downtown Manchester.
The land had lain dormant since a plan to build the local Nynex building there fell apart in the early 1990s. Nynex, now part of Verizon, became the principal occupant in the 20-story structure at City Hall Plaza.
The city spent years marketing the site for the kind of development that would have a positive impact on the city, both in terms of economic development and in generating tax revenue.
"Anytime you add a $40 million development to the downtown landscape, it has a traditional economic impact," Jabjiniak said. "I also think a bigger livability impact also has to be taken into consideration."
The 204 rental units in the new building will attract more residents into the heart of the city who will contribute to the growing level economic, recreational and cultural activities in the central business district, he said.
"Think about adding 300-plus people living in the middle of your downtown who need services," said Jabjiniak. "They will generate additional traffic for restaurants, convenience stores, dry cleaners. They'll be able to walk to the (Verizon Wireless) arena. Some people will be able to walk to work from there. Suddenly you're able to think about downtown Manchester as a 24-hour live, work and play environment."
The city, meanwhile, will reap significant new tax revenues in return for its $5 million investment in a 310-car parking garage for the project. The owner of the property will lease the garage from the city with an option to buy.
"We are projecting somewhere between $30 million to $35 million in tax base being added to the rolls on a piece of land that had been vacant for many years," Jabjiniak said. At the city's current $27.92 tax rate, a $30 million property would generate $837,600 in new revenue, he said.
When Nynex backed out of its planned purchase of the property, then owned by Londonderry resident Gene Shannon, the Greater Manchester Development Corp., a city-chartered non-profit company, purchased the land for future, undetermined economic development. It later became the property of a new agency, Manchester Development Corp., after the city disbanded GMDC.
The city and its development agency held on to the site, while trying to find a developer interested in building something that would fit in with long-term plans for downtown revitalization.
"When trying to rejuvenate the downtown, that's such a very important corner," said Jabjiniak. "You have to try to find something that fits in with the overall master plan for downtown development."
"At any time during the past decade, I'm sure the development corporation could have entertained proposals for a gas station or a drug store," said Kevin Clougherty, the city's finance officer. "What they were holding out for was the right thing to do in order for downtown Manchester to continue a revival."
Bringing residents into market-rate housing in the downtown area has been "the strong recommendation from every economic study we've had for the last 15 years," Clougherty said.
Overall strategy
Attracting developers to the corner wasn't easy. A tentative plan for an office building and another for a hotel on the site never materialized. While a 1997 appraisal had put the market value for the property at $1.35 million, it eventually sold for roughly half that price. One reason was the subsequent discovery of environmental contamination, including, oil, lead and other "urban fill," along with chlorinated solvents from a former dry cleaning store.
When Christian Silvestri of the Silvestri Company in Salem and Massachusetts developer Brian Dacey bought the land for $650,000 last year, the new owners took on the costs of the environmental clean-up, in addition to the building the seven-story structure that will include 5,500 square feet of retail space in addition to the housing units.
"Clearly this project is going to be of benefit to the city," said Jay Taylor who negotiated the terms of the agreement with the new owners before his retirement as the city's economic development director last year. "It's going to be a landmark, a good addition to downtown." With rentals expected to be at the high end of the Manchester market, the apartments will likely draw upscale residents with money to spend in the inner city.
"I would think you would probably see young couples with no kids, for example, living there, or 'empty-nesters' who don't want a big house anymore and would rather have a place where they can walk to work don't have to worry about shoveling snow," Taylor said. "That was part of the overall strategy, to get people with disposable incomes to live downtown, to provide support to traditional retail activity. That can support retail things that aren't there now and haven't been there for a number of years. These things are all tied together."
New residential development hasn't been seen in downtown Manchester for quite some time, said Stephanie Lewry, executive director of Intown Manchester. "We haven't had a building probably in 30 years, at least, to provide new housing in this area. Our housing stock downtown is very old and while that has its charm and is very desirable, we do need more options for housing."
An increase in both the number and quality of housing options available in the center city might encourage some of the people who are employed in the downtown area to work there as well, Lewry said.
Studies done by Intown Manchester have found that while those employed downtown earn on average more than those working in other parts of Manchester, those who currently live downtown have the lowest incomes of any area of the city.
"People taking home those fat paychecks are taking them home to the suburbs," said Lewry. Drawing more of them to downtown residences will help create "an environment of interest in this city that's more than just Monday through Friday," she said.
While developments on the scale of the Bridge and Elm Street project may be rare in a city as built-up as Manchester, Taylor sees the possibility for future residential units in some existing downtown buildings.
"There may be some buildings that have upper floors that are not being used to any great extent," he said. "I guess it would be nice to see some upper stories converted to some kind of residential activities. The trick is to create a market high enough to justify the investment by the builder. It costs you a lot of money to renovate them. Over time as the value of downtown property increases, hopefully some of those upper floors will get redeveloped for other uses."