Filings gain momentum in hernia mesh litigation
Number of plaintiffs now total 784 in class action over NH-based Atrium's product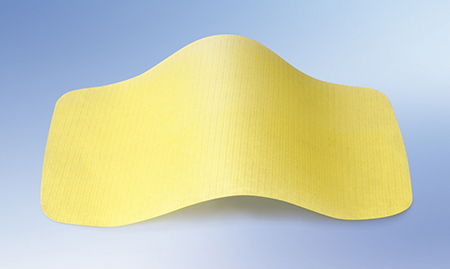 Complaints are being added at an increasing rate in U.S. District Court class action litigation against Atrium Medical Corp, a medical device firm that employs 600 people in Merrimack.
At midyear, 784 plaintiffs were involved in 621 federal cases from around the country, all alleging that Atrium's hernia mesh products had painful and sometimes fatal complications.
The suits, which began being filed in August 2016, were consolidated at the end of that year in U.S. District Court in Concord. Over the last six months, they were filed at a rate of 39 a month, compared to 24 per month previously. That doesn't count over 100 cases filed in New Hampshire Superior Court.
Few of the federal plaintiffs are from New Hampshire, even those filed directly in Concord. The last half dozen were from Kansas, Texas and Mississippi.
All of the lawsuits blame Atrium's C-QUR hernia mesh products, which are coated with fish oil derivative (an Omega 3 product similar to the nutritional supplement), the company's unique solution to adverse reactions.
But plaintiffs' attorneys allege that the fish oil is a large part of the problem, along with the plastic mesh itself, the way it is manufactured and the Federal Drug Administration's medical device approval process.
Attorneys for Atrium — which was acquired by Getinge Group, a publicly traded Swedish firm, for $680 million in November 2011 — contended in court that the product is safe, that complications are often due to improper implantation by physicians, and that patients are more susceptible to infections because they tend to be obese and smoke too much.
Hernia meshes are a small part of Atrium's business, and the lawsuits it is facing are a small fraction of the number facing the entire medical mesh industry. There are tens of thousands suits filed against much larger companies, including Johnson & Johnson, and settlements have been reached for multiple hundreds of millions of dollars.
But the number of the suits filed pale in comparison to over 1 million medical surgeries performed each year.
Both sides have been bickering for months during the discovery phase, with litigants charging Getinge with "discovery abuse" by withholding documents, stalling or hiding behind Swedish privacy protections. Getinge has countered that the requests for information are overly broad, once using the word "harassment."
In particular, the plaintiffs are seeking information on corporate merger documents to dispute Getinge's contention that it wasn't liable for Atrium's actions.
And that's just the general phase of discovery. The net, "specific," phase won't begin until March 2019, with the goal of a trial beginning Feb. 20, 2020, if a settlement is not reached beforehand.