Farmer's son now facing drug charges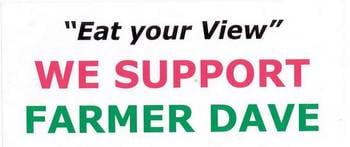 HOLLIS – The teenage son of the owner of Lull Farm has been arrested on marijuana charges, a week after his father was allegedly caught growing the drug at his Blood Road home.
Andrew H. Orde, 18, of 2 Blood Road, was arrested Monday night and charged with the manufacturing, a Class B felony, and possession of a controlled drug, a Class A misdemeanor.
Last week, his father, David H. Orde, the owner and operator of the popular Lull Farm and retail farm stands in Hollis and Milford, was arrested and charged with growing marijuana.
The arrest of the elder Orde followed a routine call from a town police officer delivering a court summons on an unpaid dog license. Orde, 53, was not at home, but the officer allegedly found and seized 16 marijuana plants growing on the porch.
The police officer called David Orde at his farm and arrested him after he returned home. He will be arraigned Aug. 13 in Nashua District Court.
Hollis police Sgt. Richard Mello said the arrest of the son resulted from a search of the family's home last week.
Police found marijuana and drug paraphernalia, "evidence that tied Andrew to manufacturing," Mello said.
Andrew Orde was released on $5,000 personal recognizance bail and is scheduled to be arraigned in Nashua District Court on Aug. 27, two weeks after his father's arraignment.
Meanwhile, business continues as usual at the two Lull Farm stands where bumper stickers expressing support for "Farmer Dave" are available to customers.
A clerk at the Milford location, on Route 13, said Orde's daughter designed and printed the bumper sticker – a simple white rectangle about 3 inches by 6 inches that reads "Eat your View," a longtime slogan for the farm, and "We Support Farmer Dave."
On Monday afternoon at the stand, most customers lining up to pay for their corn, berries, greens, and other products didn't notice the wooden, quart basket filled with bumper stickers placed by the cash register with a sign that said "free."
The newspaper made several calls to Orde's daughter, who works at the Hollis retail store, but she did not return calls.